Lumatek ZEUS 1000W Xtreme PPFD CO2
£1295.95
Saving: £254.00
RRP: £1549.95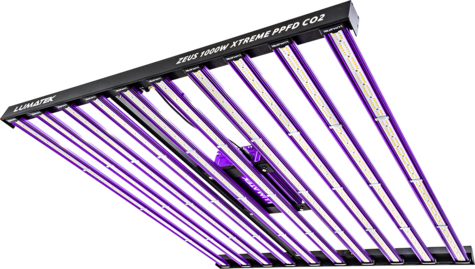 Lumatek ZEUS 1000W Xtreme PPFD CO2
£1295.95
Saving: £254.00
RRP: £1549.95
Description
FAQs
Video
Delivery
Klarna
ZEUS 1000W Xtreme PPFD CO2
Power has just attained a new level in LED lighting. Raising the benchmark for horticultural lighting higher than ever before.
Lumatek introduces to growers the most powerful grow light on the market, the Zeus 1000W Xtreme PPFD CO2 LED.
Designed for 1.5×1.5m coverage with Supplemental CO2 for optimal efficiency and results. The brightest just got brighter.
The higher specification Lumatek Zeus 1000W Xtreme PPFD CO2 LED is a linear multi-light bar fixture producing extremely high levels of PPF of 2925 µmol/s and a Photon Efficacy (fixture efficiency) of 2.9 µmol/J.
Pioneers of the innovative, modular, magnetic LED light bar design. With the advances in technology and fixture performance, high quality LED horticultural lighting is now a credible option offering significant return on investment to cultivators.
Lumatek full spectrum horticultural LED solutions balance light quality (spectra) with light quantity (intensity and duration) ensuring an even light distribution and uniform spread.
The Zeus 1000W Xtreme PPFD CO2 produces extreme high levels of light intensity which requires the use of supplemental CO2 for those who plan to grow on 1.5×1.5m grow areas with short distances from canopy to the light.
Carbon Dioxide (CO2) Supplementation
The use of CO2 with this fixture is not mandatory, but to run it without it, then we recommend a longer canopy distance to the light, ensuring the optimal PPFD levels accordingly to the grow stage.
Using this last method the expected optimal coverage area gets to 1.8×1.8m but with lower levels of PPFD intensity concentration.Supplementation use of Carbon Dioxide (CO2) in your controlled environment can significantly improve the yield of your crop if used correctly.
In general a good rule is that once you exceed 1000 µmol/s/m2 PPFD levels, you should be 1:1 with CO2 PPM – up to 1500. So at max PPFD = 1500 µmol/s/m2, CO2 would be 1500 PPM (a little lower, 1400 PPM may be the safest to start).
The new line of Zeus is built using high quality Lumatek drivers and latest generation top bin LEDs from Lumileds and Osram, generating a full-spectrum light source ideal for veg and flowering cycles.
Another new feature of this line is the Clear Glue protection cover technology on the LED bars; resulting in higher light transmittance of 99% without light loss, extended lifetime of diodes, extra corrosion resistance and high waterproof of IP65.
For basic maintenance, simply clean the bars with wet cotton. For different cultivars, propagation and vegetative growth periods the Zeus may be dimmed without losing efficiency.
The high efficiency and low powered LED configuration with 10 LED bars reduces the temperature of the LEDs increasing the output and improving light maintenance.
The Zeus fixture can also be externally controlled with a Lumatek digital lighting controller (Digital Panel Plus 2.0) featuring light timing, automated dimming (1% increments), temperature safety control, Sunrise & Sunset Mode for up to 100 fixtures per controller.
Specifications:
Efficacy: 2.9 µmol/J

PPF: 2925 µmol/s

Input Voltage: 220-240V, 50-60Hz

INPUT POWER (100%): 1025W

Footprint: 1.5x1.5m With Supp. CO2; 1.8x1.8m Without Supp. CO2 Used At higher Heights.

Waterproof: IP65

Lifetime: 60 000 Hrs

Light Distribution: 120°

Light Source: Higher Spec Osram and Lumileds Diodes

Dimmable: OFF-25%-50%-75%-100% with 0-10V Light Dimmer (Included)

External Control: With Lumatek Digital Panel Plus 2.0

Weight: 18 Kg

Dimensions: 1181.2x1091x105.7mm

Spectrum: Full Spectrum F

Items Included:
10 x Lumatek 100W Pro 2.9 Full-Spectrum Magnet Light Bars

1 x Lumatek 1000W Xtreme Pro Driver With Connecting Cables

1 x LED Structure With Connecting Cables

1 x 0-10V Light Dimmer + Velcro

2 x Metal Cable Hangers

1 x Manual
HOW TO USE ?
Lumatek Zeus can be assembled in just five minutes. You only need to put the frame together, attach the power supply, install the LED strips and then connect the controller. The instruction manual by Lumatek is excellent and makes it easy to follow. Lumatek suggests using the lights in 1.5m-2m square grow areas. Ideal BudBox 1.5mx1.5m Grow Tents. You will need a 1.8m2 area if you are running the Xtreme without CO2. These lights can be very powerful so don't put them too close to your plants. Start with the lowest setting. As your plants adjust, you can gradually increase the intensity or reduce the distance.
Mainland England & Wales
Orders over £50 are Free Standard Delivery.
Orders under £50 are £4.50 Standard Delivery
Next Day Delivery £6.99
We ship parcels using DHL tracked Service. DHL will send you tracking information by email or text to inform you know when they will be delivering your parcel.
Small items are sent via a Royal Mail tracked service.
Our cut-off time for deliveries to leave us the same day is 3pm Monday to Friday.
In Stock: 1 - 2 Working Days
Out of Stock: 2 - 4 Working Days
Items Marked 'Out of Stock' on the website are not currently available from our supplier. Please call or email & we will update you when available.
If any item ordered is unavailable we will contact you by email or phone with expected delivery times. We only debit orders on dispatch so should you wish to cancel, we will do so.
Free Product Exchange:
We allow 30 days for a product exchange. On receipt of the original unused items we will return your exchange carriage free.
Terms and conditions apply.
Scottish Highlands / Northern Ireland
In Stock: £13.99 Delivery 1 to 2 Working Days
The cut off time for deliveries to leave us the same day is 3pm Monday to Friday.
We ship using DHL tracked service. DHL will send tracking information by email or text so you know when they will be delivering your parcel.
Small items are sent via a Royal Mail tracked service.
Free Collection:
Please arrange a collection time and date with our team if you wish to collect your order.