LUMATEK Control Panel PLUS 2.0 (HID+LED)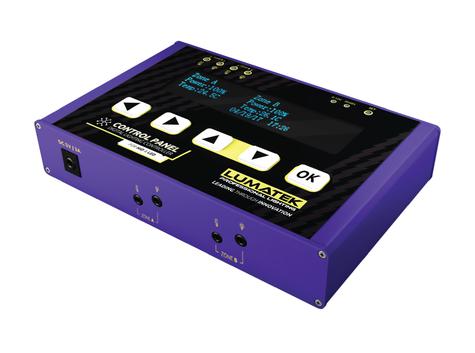 LUMATEK Control Panel PLUS 2.0 (HID+LED)
Description
Video
Delivery
Klarna
Lumatek Control Panel Plus 2.0 (HID+LED)
Using innovative technology, this controller smartly monitors your grow room temperatures, light timing & intensity automation, safety-controlled dimming and switching On/Off. Simply connect it to your Lumatek Controllable Fixtures, Drivers or Ballasts and easily regulate your grow room environment.
Power: Adaptor 100 - 240V AC 50/60Hz - DC 5V/2A
Match HID Ballast: 315W, 600W, 630W, 1000W
Match LED Driver: 90W, 465W, 600W, 1000W
Power Dimming Range: 10% - 115%
Power Regulation Accuracy: 1%
Temperature-controlled Safety Dimming range: 0ºC-40ºC
Temperature-controlled Safety Switching range: 10ºC-50ºC
Sunrise and Sunset Duration: 0-30 min
Dimensions: 125mm x 80mm x 25mm
Control panel for up to 400 HID ballasts or 100 LED drivers

Two channels (Zone A & Zone B)

Max number of ballasts/drivers per Zone: 200 (RS485) HID or 50 (0-10V) LED

Total number of ballast/drivers per controller: 400 (RS485) HID or 100 (0-10V) LED

24 Hr Light timing & switching

Temperature sensor monitoring and control

Dimming control (1% increments)

Safety and temperature control automation

Simulate sunrise and sunset to lessen plant stress

Light intensity automation
LUMATEK Digital panel PLUS 2.0 (HID+LED), a digital dual-signal controller, allows for precise control over your Lumatek ballasts, drivers, and lighting fixtures. This controller uses innovative technology to monitor your grow rooms, adjust light timing and intensity, dimming, on/off switching, as well as safety-controlled dimming. Connect it to any Lumatek Controllable Fixtures or Drivers, and you can easily control your grow space environment.
Lumatek Digital Panel Plus 2.0 has a dual-signal twin channel digital lighting controller. Each of the two channels (Zones), can control up to 200 Lumatek controlled HID fixtures and ballasts using a digital RS485 or 50 analog 0-10V signals. Each Zone can be used to control multiple fixtures or up to 400 fixtures within a single room.
Every Channel (Zone), can be controlled by the same-powered drivers/ballasts. Zone A can set Zone B to control LED lights 600w and Zone A to handle 315W and 600W HID ballasts.
Automate timing and dimming, as well as automate switching.

For safety control, temperature-control switching & dimming

Automate Light Intensity and PPFD
You can control up to 400 HID fixtures or ballasts (200 ballasts for each channel in Zone A and B).
Mainland England & Wales
Orders over £50 are Free Standard Delivery.
Orders under £50 are £4.50 Standard Delivery
Next Day Delivery £6.99
We ship parcels using DHL tracked Service. DHL will send you tracking information by email or text to inform you know when they will be delivering your parcel.
Small items are sent via a Royal Mail tracked service.
Our cut-off time for deliveries to leave us the same day is 3pm Monday to Friday.
In Stock: 1 - 2 Working Days
Out of Stock: 2 - 4 Working Days
Items Marked 'Out of Stock' on the website are not currently available from our supplier. Please call or email & we will update you when available.
If any item ordered is unavailable we will contact you by email or phone with expected delivery times. We only debit orders on dispatch so should you wish to cancel, we will do so.
Free Product Exchange:
We allow 30 days for a product exchange. On receipt of the original unused items we will return your exchange carriage free.
Terms and conditions apply.
Scottish Highlands / Northern Ireland
In Stock: £13.99 Delivery 1 to 2 Working Days
The cut off time for deliveries to leave us the same day is 3pm Monday to Friday.
We ship using DHL tracked service. DHL will send tracking information by email or text so you know when they will be delivering your parcel.
Small items are sent via a Royal Mail tracked service.
Free Collection:
Please arrange a collection time and date with our team if you wish to collect your order.