GHE WaterFarm Grow System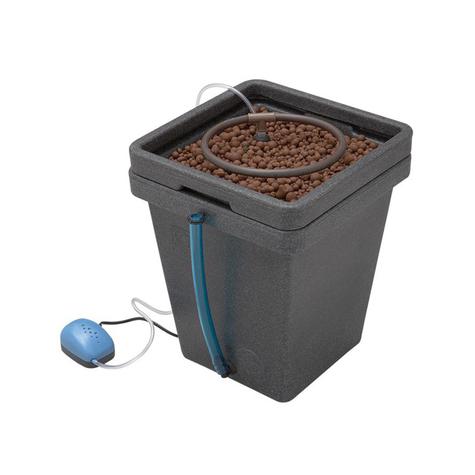 GHE WaterFarm Grow System
Description
FAQs
Delivery
Klarna
The GHE WaterFarm Grow System is a smaller version of the AquaFarm drip-irrigation system - a hugely popular all-in-one hydroponic unit used by new and experienced growers alike! The WaterFarm is good for when you don't have the space for an AquaFarm.
Avoiding water damage:
Sometimes, even with the best hydroponic systems, there are times when a seal fails, a pipe can become adrift or a reservoir may burst, which can cause a lot of water to leak onto the floor. You should plan ahead for what could happen. You can place your system on a Work Tray or Run-off with high sides, or you could use Floor Secure Sheeting to secure your floor in your growing room. You can have it ride up the walls by just a few inches. This will create a floor-basin that could prevent major water damage in case of an emergency. It is better to be safe than sorry.
What the WaterFarm and AquaFarm systems do:
The top chamber is filled with clay pebbles and plants are housed there. Above the reservoir tank, which contains nutrient-enriched waters, is suspended the aquafarm and waterfarm growing chambers. The pump includes an air pump that drives the water solution up the tank through the "pumping columns" and to the drip-ring at top using a "venturi" system. It is then dropped onto clay pebbles. After the pebbles are removed, the nutrient solution runs through the clay and through the holes at the base of the grow chamber before it is returned to the reservoir. The nutrient solution is infused with enormous amounts of oxygen, which enables the roots to grow exceptionally well. A blue indicator pipe outside the reservoir shows how much nutrient is left.
Manufactured by GHE - one of the original hydroponics systems manufacturers

Based on the AquaFarm - a favourite of growers for over 30 years

Air Pump (not included) driven dripper system - infuses oxygen into the nutrient solution

Very easy to use

Encourages very fast plant growth

Includes reservoir indicator - see how much nutrient solution is in the reservoir at a glance

Clay Pebbles not included
Here's how to use AquaFarm & WaterFarm:
The reservoir tank's hole is where a grommet will be fitted. The blue reservoir level indicator pipe is connected to an elbow. Once the elbow has been attached, the elbow can be fitted into the grommet. A push-in O clip holds the top of blue reservoir tank indicator pipes in place.After the reservoir tank is filled with the nutrient solution, it is time to place the growing chamber on top. Next, the pumping column can be fitted into the reservoir tank by connecting the air-line to the hole at the top. After the growing chamber has been filled with clay pebbles, the drip-ring and t-piece are attached to the top. An air pump is connected to the other end. The air pump can then be switched on by connecting the other end of the airline to an air pump. The air is forced down the pumping column, where it pushes the nutrient solution up the tube. It is then distributed through the drip-ring and t-piece which water the plant with an even and consistent amount of nutrients.This indicator shows how much nutrient is left in the reservoir. As the plant consumes the nutrient solution, this level will decrease. You should keep an eye on your nutrient solution levels and make sure it doesn't drop below half of its original height. You can add more water to the top of your grow chamber by carefully pouring the nutrient solution or water into it. Every 7 days, we recommend that you change the nutrient solutions. These systems combine both a reliable and affordable hydroponic system. The systems are a good introduction for those who want to learn about hydroponics, but they do not compromise on plant yield or growth as compared with other hydroponic systems.
Mainland England & Wales
Orders over £50 are Free Standard Delivery.
Orders under £50 are £4.50 Standard Delivery
Next Day Delivery £6.99
We ship parcels using DHL tracked Service. DHL will send you tracking information by email or text to inform you know when they will be delivering your parcel.
Small items are sent via a Royal Mail tracked service.
Our cut-off time for deliveries to leave us the same day is 3pm Monday to Friday.
In Stock: 1 - 2 Working Days
Out of Stock: 2 - 4 Working Days
Items Marked 'Out of Stock' on the website are not currently available from our supplier. Please call or email & we will update you when available.
If any item ordered is unavailable we will contact you by email or phone with expected delivery times. We only debit orders on dispatch so should you wish to cancel, we will do so.
Free Product Exchange:
We allow 30 days for a product exchange. On receipt of the original unused items we will return your exchange carriage free.
Terms and conditions apply.
Scottish Highlands / Northern Ireland
In Stock: £13.99 Delivery 1 to 2 Working Days
The cut off time for deliveries to leave us the same day is 3pm Monday to Friday.
We ship using DHL tracked service. DHL will send tracking information by email or text so you know when they will be delivering your parcel.
Small items are sent via a Royal Mail tracked service.
Free Collection:
Please arrange a collection time and date with our team if you wish to collect your order.