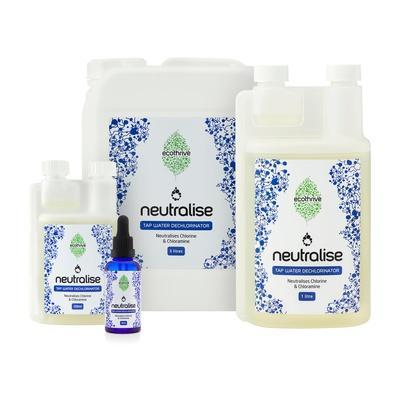 Description
Delivery
Klarna
Ecothrive - Neutralise
Neutralises Chlorine Instantly
Release the biological potential of your growing media and plant nutrients with Neutralise.
Neutralise instantly dechlorinates tap water, protecting beneficial microbes from the harmful effects of both chlorine and chloramine. It's ideal for conditioning tap water before adding microbial products such as Biosys. It can also be used with soil, coco and hydroponic systems as a pre-treatment for irrigation water and nutrient solutions.
Treats Chlorine and Chloramine

Ideal for organic gardeners

Allows beneficial microbes to flourish

Pre-treatment for hydroponic nutrient solutions
Neutralise has been formulated to actively target the presence of chlorine and chloramine in tap water. Chlorine is a powerful disinfectant added to water supplies all across the UK to kill potentially harmful bacteria. No doubt you will have smelt chlorine when running the tap or having a shower.
Chlorine alone in tap water can create some unwanted harmful by-products, so water companies also utilise a more stable version of chlorine known as chloramine. The procedure involves mixing ammonia into chlorinated water. Chloramine is far more persistent than chlorine alone, making it more effective at killing bacteria right to the point of drinking your glass of tap water, or watering your plants.

Stop Chlorine and Chloramine Killing Beneficial Biology!
Chlorine compounds are very reactive, killing microbes by oxidation. When present in the water as chlorine and chloramine they will readily oxidise enzymes, proteins, bacteria and other living microorganisms. Unfortunately they do not distinguish between "bad biology" and beneficials, so chlorine and chloramine can potentially knock back the microbiology in your growing media that your plants rely on.
The active ingredient in Neutralise is concentrated Vitamin C, a totally safe ingredient for your soil and plants. When Neutralise is added to chlorinated water, the Vitamin C is rapidly oxidised by the chlorine and chloramine. In this process the chlorine compounds are reduced to chloride, which is harmless to microbes. Chloride is also a micronutrient, required by plants at very low levels.
Don't hold your garden back by using chlorinated water, allow it to thrive with Neutralise.
Mainland England & Wales
Orders over £50 are Free Standard Delivery.
Orders under £50 are £4.50 Standard Delivery
Next Day Delivery £6.99
We ship parcels using DHL tracked Service. DHL will send you tracking information by email or text to inform you know when they will be delivering your parcel.
Small items are sent via a Royal Mail tracked service.
Our cut-off time for deliveries to leave us the same day is 3pm Monday to Friday.
In Stock: 1 - 2 Working Days
Out of Stock: 2 - 4 Working Days
Items Marked 'Out of Stock' on the website are not currently available from our supplier. Please call or email & we will update you when available.
If any item ordered is unavailable we will contact you by email or phone with expected delivery times. We only debit orders on dispatch so should you wish to cancel, we will do so.
Free Product Exchange:
We allow 30 days for a product exchange. On receipt of the original unused items we will return your exchange carriage free.
Terms and conditions apply.
Scottish Highlands / Northern Ireland
In Stock: £13.99 Delivery 1 to 2 Working Days
The cut off time for deliveries to leave us the same day is 3pm Monday to Friday.
We ship using DHL tracked service. DHL will send tracking information by email or text so you know when they will be delivering your parcel.
Small items are sent via a Royal Mail tracked service.
Free Collection:
Please arrange a collection time and date with our team if you wish to collect your order.