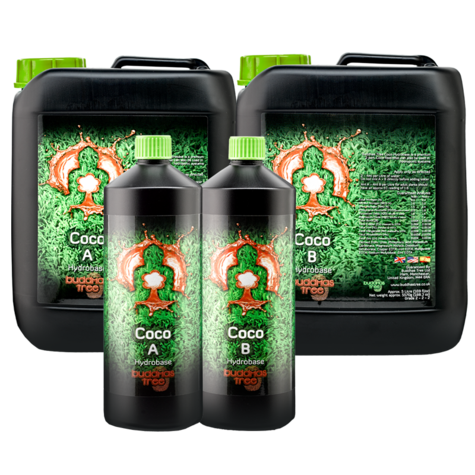 Description
Technical Specification
Delivery
Klarna
Buddhas Tree Coco A&B (Pair)
Simple and easy to use.

Buddhas Tree Coco A & B is a high-quality nutrient formulated for growing plants in Coco.

It is a 2-part nutrient that contains all the essential elements for optimal growth and flowering.

Coco A & B is ideal for growing in all watering systems as it dissolves instantly.
For years Buddhas Tree have only specialised in designing and developing top-of-the-line additives, but they've finally released a brand new Coco A+B base nutrient! Coco A&B is a premium base nutrient, containing all the essential nutrients a plant needs when grown in this substrate.
How Buddhas Tree Coco A&B Works
So many customers have been waiting for years for Buddha's Tree to release a base nutrient designed for plants that are grown in Coco, and they've finally had their prayers answers. Buddha's Tree have mostly only specialised in making additives, so it is refreshing to finally see that they're now selling the full set.
Buddha's Tree Coco A&B is a base nutrient specifically for use with plants grown in Coco. It supplies all the basic nutrients required by plants for strong, healthy growth in all stages of the plant's development. Designed especially to be used with Coco substrates, this base nutrient uses chelated nutrients for easier and faster uptake and absorption of nutrients.
Using Buddhas Tree Coco A&B
Fill your hydroponic system reservoir with water and add equal amounts of Coco Part A and Coco Part B to the tank to achieve the required strength and mix well. Use a syringe or beaker for a more accurate measurement, and a CF/EC/PPM meter check the TDS (nutrient strength). Add more Coco A+B under desired strength is achieved, then add any additives and boosters you wish to use and mix well.
Adjust the pH of the solution to the required level using pH up or down as necessary. We recommend the use of a pH meter such as the Horticare pH meter to help accurately set the pH to the required level. Make sure to avoid contact with skin and eyes and wear suitable protective clothing.
Both parts of a 2-part nutrient are designed to be used together in equal amounts. Using the nutrients in unequal amounts will result in a nutrient solution which is not properly balanced, which will ultimately lead to your plants suffering from deficiencies.
As with all nutrients, boosters and additives, never mix them together in their concentrated form (i.e. straight out of the bottle). Always add each nutrient, booster or additive to your reservoir or feed water in turn, giving the solution a good stir to mix it in before adding the next one. If both parts are added at once they clump together and the plant cannot absorb them both properly.
When adding Coco A+B to your reservoir, use 2-4ml per litre of water. 4ml A + 4ml B per litre per adult plants should have an approx. EC reading of 1.6.
Mainland England & Wales
Orders over £50 are Free Standard Delivery.
Orders under £50 are £4.50 Standard Delivery
Next Day Delivery £6.99
We ship parcels using DHL tracked Service. DHL will send you tracking information by email or text to inform you know when they will be delivering your parcel.
Small items are sent via a Royal Mail tracked service.
Our cut-off time for deliveries to leave us the same day is 3pm Monday to Friday.
In Stock: 1 - 2 Working Days
Out of Stock: 2 - 4 Working Days
Items Marked 'Out of Stock' on the website are not currently available from our supplier. Please call or email & we will update you when available.
If any item ordered is unavailable we will contact you by email or phone with expected delivery times. We only debit orders on dispatch so should you wish to cancel, we will do so.
Free Product Exchange:
We allow 30 days for a product exchange. On receipt of the original unused items we will return your exchange carriage free.
Terms and conditions apply.
Scottish Highlands / Northern Ireland
In Stock: £13.99 Delivery 1 to 2 Working Days
The cut off time for deliveries to leave us the same day is 3pm Monday to Friday.
We ship using DHL tracked service. DHL will send tracking information by email or text so you know when they will be delivering your parcel.
Small items are sent via a Royal Mail tracked service.
Free Collection:
Please arrange a collection time and date with our team if you wish to collect your order.