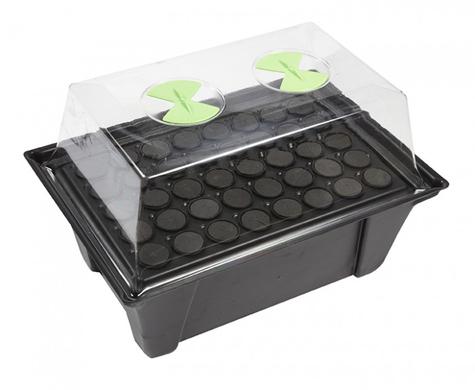 Description
Delivery
Klarna
X Stream Propagator
Before and after each use, sterilize the propagator.
For best results:
Your propagator can be used with clone collars or cutting seed cubes.Take care of your plants, Make sure that your tank has enough water to meet the specified level.You should not give your cuttings water until they have roots.
You should also make sure that your sprinklers are turned off until the plants develop roots. You can hand-water plants or use a timer until they develop roots.
You can speed up rooting and encourage early growth. An X-Stream Propagator is all you will need.
Record-breaking roots

Steady increase in success rates

Pots and plants ready for hydro-system or in pots
What is it?
The propagator will accept cuttings straight from the source - there are no cubes or rockwool blocks!
You can spray your plants with fine nutrients and water.
They will grow and expose their roots as nutrients flow directly to them. You'll notice a surge in your plants' ability to absorb more nutrients.
Rapid rooting is also possible! Growing media does not restrict root growth and roots receive constant oxygen supply.
Humidity
Get Rooted!
Media doesn't restrict rot. In just 10 days, you'll have huge roots.

Speeds Up Nutrient Uptake

So nutrients can reach the roots faster, it is better to expose them.

High Success Rates are a Reality

You can increase the chances of your seedlings or cuttings surviving and prospering by increasing growth, root mass, and nutrient uptake.

Transplant into Any System

Make sure you have cuttings for hydro- or potty systems.

Includes Collars and Net Pots

Use the net pots if you are using rockwool. You can use the net pots with the clone collars or on their own.

Holds A Propagation Light

The lid has grooves that allow for the installation of 2 Exolux ProT5 single tube propagation lights.

To prevent plants drying out, keep humidity levels as high as possible during early propagation. Once the cuttings begin to grow, close the ventilations in the propagator's lid.

After the plants have started to grow, you can open the vents to ensure that the humidity is at the right level for the area where they will be transplanted.
Lighting
You can position Exolux ProT5 single tube propagation lights by using grooves in your propagator.
Transplantation
You can safely transplant plants straight into your growing system. These aeroponic propagators are great for hydroponically growing plants.
The unique environment in an X-Stream aeroponic propagator results in incredible root development.

Plants are ready for transplanting sooner than ever.

Cuttings are ready to transplant in just 10-14 days.
Mainland England & Wales
Orders over £50 are Free Standard Delivery.
Orders under £50 are £4.50 Standard Delivery
Next Day Delivery £6.99
We ship parcels using DHL tracked Service. DHL will send you tracking information by email or text to inform you know when they will be delivering your parcel.
Small items are sent via a Royal Mail tracked service.
Our cut-off time for deliveries to leave us the same day is 3pm Monday to Friday.
In Stock: 1 - 2 Working Days
Out of Stock: 2 - 4 Working Days
Items Marked 'Out of Stock' on the website are not currently available from our supplier. Please call or email & we will update you when available.
If any item ordered is unavailable we will contact you by email or phone with expected delivery times. We only debit orders on dispatch so should you wish to cancel, we will do so.
Free Product Exchange:
We allow 30 days for a product exchange. On receipt of the original unused items we will return your exchange carriage free.
Terms and conditions apply.
Scottish Highlands / Northern Ireland
In Stock: £13.99 Delivery 1 to 2 Working Days
The cut off time for deliveries to leave us the same day is 3pm Monday to Friday.
We ship using DHL tracked service. DHL will send tracking information by email or text so you know when they will be delivering your parcel.
Small items are sent via a Royal Mail tracked service.
Free Collection:
Please arrange a collection time and date with our team if you wish to collect your order.