Smart Pot System XL-1Pot - AquaValve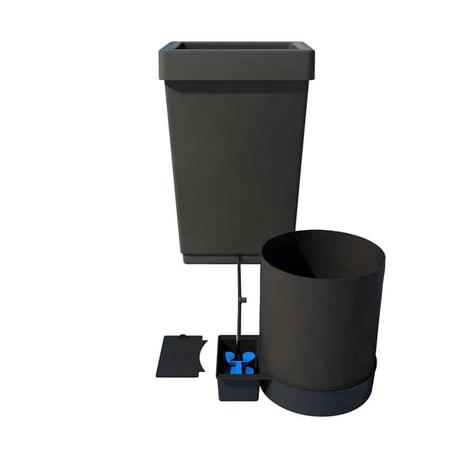 Smart Pot System XL-1Pot - AquaValve
Description
Video
Delivery
Klarna
1 Pot XL Smart Pot system
The AutoPot SmartPot System combines power-free, water efficient, low maintenance, modular systems with high performance fabric pots for the first time. SmartPots stimulate plant growth by aerating, feeding and guiding the root structure rather than merely containing it.
SmartPot's porous BPA-free and lead-free SmartPot allows for improved gas exchange within the substrate. The root zone, which is free to breath, can experience dramatically increased oxygen levels. This supercharging growth.
Root tips that reach the porous surface of SmartPots are called 'air-pruned'. This prevents them from growing further outside. The secondary roots develop and create a fibrous root structure that is much more nutrient- and moisture-efficient. This eliminates root circling, making it possible for larger plants to be grown from smaller pots.
The SmartPots can be reused and are extremely durable. SmartPots should be dried once they have been empty. You can easily brush off small roots and dust after a few days. This level of cleaning will suffice. However, SmartPots can be machine washed with peroxide to sterilize. SmartPots should not be tumble dried.
SmartPot XL System includes everything you need for setting up an automatic watering system using fabric pots. SmartPot XL's compact and portable size makes it easy to store and ship.
SmartPot System can easily be extended to allow multiple pots to be connected to one reservoir. You can move the pots and tray at your will. If plants get too big, you can easily space them further apart. This gravity-fed, versatile system runs automatically once it is set up with water and nutrients. This system will take care of your entire plant needs, without any need to use pumps or timers.
KIT CONTAINS:
1x 47ltr tank lid & 6mm top hat grommet

1x 6mm golf filter

1x 1 Pot XL tray & lid

1x 18.9ltr Smart Pot

1x 6mm inline tap

1x AQUAvalve

1x 1.5 metre length of 6mm pipe

1x PotSock Round
!! All AutoPot Systems are now supplied with AquaValve5 !!
! AquaValve available in options !
*Please note, the larger systems will incur extra delivery fees, you will be contacted before delivery after purchase to arrange this.
Mainland England & Wales
Orders over £50 are Free Standard Delivery.
Orders under £50 are £4.50 Standard Delivery
Next Day Delivery £6.99
We ship parcels using DHL tracked Service. DHL will send you tracking information by email or text to inform you know when they will be delivering your parcel.
Small items are sent via a Royal Mail tracked service.
Our cut-off time for deliveries to leave us the same day is 3pm Monday to Friday.
In Stock: 1 - 2 Working Days
Out of Stock: 2 - 4 Working Days
Items Marked 'Out of Stock' on the website are not currently available from our supplier. Please call or email & we will update you when available.
If any item ordered is unavailable we will contact you by email or phone with expected delivery times. We only debit orders on dispatch so should you wish to cancel, we will do so.
Free Product Exchange:
We allow 30 days for a product exchange. On receipt of the original unused items we will return your exchange carriage free.
Terms and conditions apply.
Scottish Highlands / Northern Ireland
In Stock: £13.99 Delivery 1 to 2 Working Days
The cut off time for deliveries to leave us the same day is 3pm Monday to Friday.
We ship using DHL tracked service. DHL will send tracking information by email or text so you know when they will be delivering your parcel.
Small items are sent via a Royal Mail tracked service.
Free Collection:
Please arrange a collection time and date with our team if you wish to collect your order.