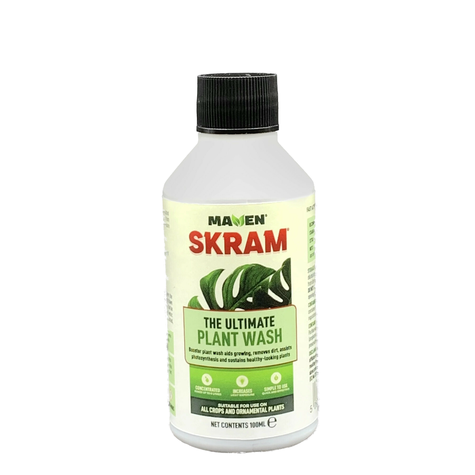 Description
Delivery
Klarna
SKRAM - PLANT WASH
SKRAM The ultimate plant wash is a blend of ingredients formulated to remove insect debris and unwanted contaminants, dirt, dust, grime and pollution from the plant leaves and stems, facilitating maximum light exposure for photosynthesis.
SKRAM is a booster plant wash that aids growing, assists photosynthesis and sustains healthy-looking plants.
SUITABLE FOR USE ON ALL CROPS AND ORNAMENTAL PLANTS
Do not spray on top of or mix with insecticides.
Mix and apply the same day.
1. PRE-APPLICATION INSTRUCTIONS: Mix the ingredients well.
2. INDOOR PLANTS - Flush the media with water to lower fertilizer levels. Let the plants hydrate for at least 30 minutes before you spray leaves or stems. Turn HID lighting down. There are no restrictions on fluorescent and LED lighting.
3. OUTDOOR PLANTATIONS: Use hydrated plants. Spray early in the morning or later. Spraying during the midday is not recommended.
DIRECTIONS FOR USE: Spray the leaves and stems with a sprayer. Spraying equipment should be able to apply a uniform coating, with some run-off. You can use SKRAM(r), a plant wash, as a weekly spray to maintain your plants at 15ml/litre. Plant stress can be caused by dehydration, excessive dosage or over-fertilisation.
NORMAL CLEANSE - Apply once every three days to ensure that optimal cleansing has taken place. To maintain the best growth, apply every 7-10 days.
EXTREME CLEANSE - Spray one time per day for three days and then spray once every three days. When using multiple cleansing products for a long time, be sure to watch.
INSTANT ACTION WITH NON-TOXIC BIODEGRADABLE INGREDIENTS
RECOMMENDED DOSAGE
STANDARD STRENGTH - Add 15ml of water to 1 Litre
EXTRA STRENGTH - Add 30ml of water to 1 Litre
NOTICE: You can use stronger than recommended dosages with appropriate precaution and testing prior to spraying the whole crop.
SKRAM(r), in its undiluted form, should not be stored. Keep it in cool, dry place away from sunlight. The bottle should be kept upright. Do not freeze. You can use the container within one year after opening it.
CONTAINER DISABLEMENT: Follow national regulations to dispose of the contents/container.
CONTAINS OTHER INGREDIENTS
Pure water, preservatives and biodegradable cleaning agents (amphoteric/nonionic suprafactants).
Mainland England & Wales
Orders over £50 are Free Standard Delivery.
Orders under £50 are £4.50 Standard Delivery
Next Day Delivery £6.99
We ship parcels using DHL tracked Service. DHL will send you tracking information by email or text to inform you know when they will be delivering your parcel.
Small items are sent via a Royal Mail tracked service.
Our cut-off time for deliveries to leave us the same day is 3pm Monday to Friday.
In Stock: 1 - 2 Working Days
Out of Stock: 2 - 4 Working Days
Items Marked 'Out of Stock' on the website are not currently available from our supplier. Please call or email & we will update you when available.
If any item ordered is unavailable we will contact you by email or phone with expected delivery times. We only debit orders on dispatch so should you wish to cancel, we will do so.
Free Product Exchange:
We allow 30 days for a product exchange. On receipt of the original unused items we will return your exchange carriage free.
Terms and conditions apply.
Scottish Highlands / Northern Ireland
In Stock: £13.99 Delivery 1 to 2 Working Days
The cut off time for deliveries to leave us the same day is 3pm Monday to Friday.
We ship using DHL tracked service. DHL will send tracking information by email or text so you know when they will be delivering your parcel.
Small items are sent via a Royal Mail tracked service.
Free Collection:
Please arrange a collection time and date with our team if you wish to collect your order.