Silver Bullet Roots 1L/5L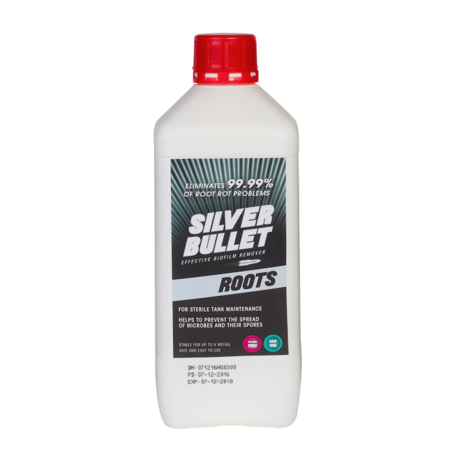 Silver Bullet Roots 1L/5L
Description
Delivery
Klarna
Silver Bullet Roots
Silver Bullet Roots helps suppress and prevent Pythium but is also a highly effective as a bactericide, virucide, sporicide, fungicide, algaecide and amoebacide.
It delivers unparalleled stability in tanks for up to 5 weeks and contributes to healthy white roots.
It is non-toxic and non-corrosive, chlorine free, pH-neutral, easy to use.
It is also odour, colour and taste free.
Although highly stable, over time, there is a slight natural decomposition of the silver stabilised hydrogen peroxide, coupled with the sterilisation reaction leads to the release of dissolved oxygen into the nutrient solution. This increase in dissolved oxygen produces an increase in nutrient uptake, stimulating growth rates further.
Silver Bullet Roots: How it Works
The peroxide treatment Silver Bullet has had its effectiveness greatly increased by cleverly mixing it with silver. Because of its chemical bonding to silver, the peroxide is more effective in killing microbes than other treatments and lasts longer once it's been stored. Silver Bullet Roots is 5x more effective than regular peroxide treatments. It can be added to the tank at a lower dose than most hydrogen peroxide treatment, which makes it highly economical. Silver Bullet Roots can kill virtually any microbe, including bacteria, viruses, protozoa, and fungi, while removing biofilm, leaving pathogens no place to hide.
It is the unique element that makes this product so special. Silver Bullet's silver ions begin looking for negative charges from bacteria/fungalspores around your plants' roots. They attach to bacteria/fungi and begin to break down protective barriers. The hydrogen peroxide oxidizes the microbe once it is exposed. The silver then moves to its next target. Once the microbe is dead, it loses its negativity. The silver is restabilized with hydrogen peroxide molecules as it continues to move on. This promotes oxygenation around roots and encourages healthier, stronger growth.
How to use Silver Bullet Roots
When handling this substance, ensure you use the appropriate safety gear such as gloves, eye protection, and face protection. Accidentally inhaling the product should be avoided. If you have any respiratory issues, it is best to seek medical attention immediately. Contact with skin or eyes should be avoided. If you feel unwell, wash the product with warm water and contact a physician.
Silver Bullet Roots can kill all kinds of microbes, friendly or pathogenic. Silver Bullet Roots is not compatible with biological/organic gardening, as both methods of growing food depend on the beneficial microbes that break down plant nutrients.
Dosage recommendations
If there's root disease, dilute the mixture at 2ml for 10 litres. For cuttings/seedlings, dilute at 4ml/10 litres.
To prevent problems from developing, dilute 4ml for every 10 litres
For established plants: Dilute 6ml per 10 litres, every 1-2 weeks
To treat diseased plants, dilute 8ml for 10 litres and then continue to do so for five days. Then you can revert back to 6ml/10 litres
To flush system or cleaning system: Mix 2ml for 10 litres and flush pipe with clean water
Mainland England & Wales
Orders over £50 are Free Standard Delivery.
Orders under £50 are £4.50 Standard Delivery
Next Day Delivery £6.99
We ship parcels using DHL tracked Service. DHL will send you tracking information by email or text to inform you know when they will be delivering your parcel.
Small items are sent via a Royal Mail tracked service.
Our cut-off time for deliveries to leave us the same day is 3pm Monday to Friday.
In Stock: 1 - 2 Working Days
Out of Stock: 2 - 4 Working Days
Items Marked 'Out of Stock' on the website are not currently available from our supplier. Please call or email & we will update you when available.
If any item ordered is unavailable we will contact you by email or phone with expected delivery times. We only debit orders on dispatch so should you wish to cancel, we will do so.
Free Product Exchange:
We allow 30 days for a product exchange. On receipt of the original unused items we will return your exchange carriage free.
Terms and conditions apply.
Scottish Highlands / Northern Ireland
In Stock: £13.99 Delivery 1 to 2 Working Days
The cut off time for deliveries to leave us the same day is 3pm Monday to Friday.
We ship using DHL tracked service. DHL will send tracking information by email or text so you know when they will be delivering your parcel.
Small items are sent via a Royal Mail tracked service.
Free Collection:
Please arrange a collection time and date with our team if you wish to collect your order.