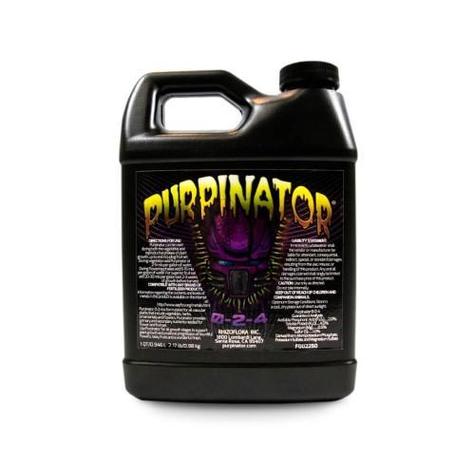 Description
Delivery
Klarna
Green Planet Nutrients - Purpinator
Building on the success of Rhizoflora Terpinator, Green Planet Nutrients have created a version especially designed to enhance the natural colouration of purple varieties of plant. Purpinator gives you all the benefits of Terpinator - increased and improved aromas, more and bigger resin glands, and greater essential oil production. However, the unique formulation of Purpinator also helps to bring out the purple expression in plants which have the genetic aptitude to do so. It can be disappointing to grow a strain described as purple, but which never really reaches its genetic colouration potential. Rhizoflora Purpinator activates and encourages the production of the purple compounds (anthocyanins) which maximise this highly prized colouration.
How Purpinator Works
Using Purpinator alongside your regular feeding regimen will help to bring out the flavours and aromas of your plants by greatly increasing the concentration of terpenes, just like Terpinator does. Terpenes (and other secondary metabolites) are major components of the essential oils of various species of flowers and plants. They are molecular compounds made up of repeating isoprene structures and they're also what give plants their distinctive aromas. Stronger smelling and tasting crops are assured.
On top of giving you all the benefits of Terpinator, Purpinator also activates certain intra-cellular bio-chemical processes which bring out purple hues and colouration in plants with the genetic potential to do so. Certain types of cells in plants are responsible for producing compounds called flavonoids which are basically antioxidants. Purple coloration is caused by a mixture of both red and blue pigments. The plant produces more of them under certain conditions such as when they are under the stress of cold conditions. Purpinator creates the right conditions in the cells and vacuoles to increase production of these purple flavonoids, even when they are not under stress. It does this by making the pH inside these cells (and the plant sap) more neutral.
One particular group of flavonoids are called anthocyanins and it is these particular flavonoids that have a purple colour, especially one called Cyanidin. When Purpinator is given to a plant which has the ability to produce Anthocyanins then production of them is increased markedly, bringing out the highly attractive, and sought after, purple colourations. Customer reviews and testing are showing that this is a very effective product. If plant sap pH is low then Cyanidin tends to be red, When the plant sap has a high pH it tends to be more blue. The neutral sap pH that Purpinator encourages helps to bring out both colours which when combined produce purple hues.
Please remember that not all strains or cultivars, and sometimes not all individual plants within a particular strain will have the genetic ability to produce large quantities of anthocyanins. For these strains and individual plants, Purpinator will NOT be able to bring out purple colouration. However, for those plants that can produce anthocyanins, Purpinator will go a long way to promote the maximum purple colouration potential. It is also worth knowing that the inclusion of some blue light (400nm-500nm) likewise stimulates the production of purple pigments. This is the action spectra for anthocyanin pigment synthesis. Likewise, cooler night temperatures will aid in the production of violet tints in leaves, fruits and flowers.
Rigorous manufacturer's testing and customer reviews indicate that this is a very effective product.
How to Use Purpinator
Purpinator can be used for plants grown in any substrate be it soil, coco or clay pebbles. Do not use with Terpinator as this unneccessary and could lead to overdosing. NEVER use it as a foliar spray.
Purpinator is highly concentrated. Shake well before use, particularly if crystals appear in the bottle. If adding it to a reservoir then make sure it is well aerated, especially in DWC.
Purpinator can be used throughout both the vegetative and flowering stages, though it is particularly effective to use it during the flowering stage, especially during the mid to late stages.
In order to maximise the effectiveness of Purpinator, add some blue light in the wavelength range of 400-500nm which is known to be the action spectra for anthocyanin production.
Never mix nutrients and boosters together in their concentrated form (i.e. straight out of the bottle). As with all nutrients and boosters, add each of them to your feed water one at a time, giving the solution a good stir to mix it in before adding the next one.
Veg: 0.5ml – 1.0ml per litre of nutrient solution
Early to Mid Flower: 1.0ml – 3.0ml per litre of nutrient solution
Late Flower (last 2-3 weeks): 5.0ml - 8.0ml per litre of nutrient solution
Purpinator NPK: 0-2-4
Mainland England & Wales
Orders over £50 are Free Standard Delivery.
Orders under £50 are £4.50 Standard Delivery
Next Day Delivery £6.99
We ship parcels using DHL tracked Service. DHL will send you tracking information by email or text to inform you know when they will be delivering your parcel.
Small items are sent via a Royal Mail tracked service.
Our cut-off time for deliveries to leave us the same day is 3pm Monday to Friday.
In Stock: 1 - 2 Working Days
Out of Stock: 2 - 4 Working Days
Items Marked 'Out of Stock' on the website are not currently available from our supplier. Please call or email & we will update you when available.
If any item ordered is unavailable we will contact you by email or phone with expected delivery times. We only debit orders on dispatch so should you wish to cancel, we will do so.
Free Product Exchange:
We allow 30 days for a product exchange. On receipt of the original unused items we will return your exchange carriage free.
Terms and conditions apply.
Scottish Highlands / Northern Ireland
In Stock: £13.99 Delivery 1 to 2 Working Days
The cut off time for deliveries to leave us the same day is 3pm Monday to Friday.
We ship using DHL tracked service. DHL will send tracking information by email or text so you know when they will be delivering your parcel.
Small items are sent via a Royal Mail tracked service.
Free Collection:
Please arrange a collection time and date with our team if you wish to collect your order.