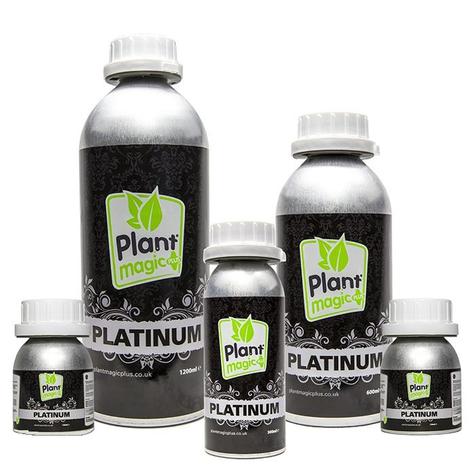 Description
Video
Delivery
Klarna
Plant Magic Platinum
Heavier yields, stronger aroma, enhanced aroma and better flower structure.
Quite simply, Plant Magic Platinum will provide the best possible finish for your crop.
This unique flowering stage blend is enriched with bio-stimulants, sulphur and nitrogen.
The phosphorous and potassium will increase flower production by assisting in the building of proteins and amino acids.

Sulphur speeds up photosynthesis.

Nitrogen maintains plant health.

Its Bio-stimulants feed root-zone microbes and fungi, reducing nutrient loss to run-off. It also breaks nutrients down to improve uptake of all essential elements

The Bio Stimulants in this PK Booster are by far the best we have ever come across.

They feed the microbes and fungi in the roots, break nutrients down to make them easier for the roots to take-up and in compost and soil they increase Cation Exchange Capacity (when growing in compost / soil).
We advise the use of Magne-Cal + alongside Platinum PK 9-18.
Completely soluble.
This can be used in soil, coco, pebbles and hydroponic systems.
What Plant Magic Platinum Does
The two main macronutrients that are most essential for flowering stage development is phosphorus (or potassium). These nutrients work exponentially better when they are accompanied by other nutrients. Platinum was created by the Plant Magic Team to provide plants with all they need during their later flowering stage.
Plant Magic Platinum contains powerful biostimulants that increase Cation exchange capability. Cation (an electrically charged atom with less electrons than protons) is an ion. It creates a positive charge. The soil's fertility is measured by its cation exchange capacity. This indicates the medium's ability hold on to essential nutrients. A higher exchange rate means that the plant has more nutrients. Biostimulants can also be used to improve root structure and to make plant food more useful.
Amino Acids, organic compounds, are the basic building blocks of all living things. After years of testing side-by-side, the combination of amino acid used in Plant Magic Platinum was developed. These amino acids form proteins that nourish all cells in the plant's body.
The formula includes sulphur because of its ability to significantly increase the uptake and its function in photosynthesis. Plants photosynthesise by taking co2 from the atmosphere. Then they use the energy generated by their leaves to break down the co2 into carbon, which is used in the manufacture of plant sugars and oxygen. The production of chlorophyll is made possible by sulphur. Photosynthesis is influenced by chlorophyll, which absorbs light energy. You can ensure your plants get enough sulphur to make sure they are making the most of your lighting system's energy.
Plant Magic Platinum: How do you use it?
Hydro/Coco
Plant Magic Platinum can be added to your nutrient program starting in the fourth week. Plant Magic suggests that Platinum be used at a dose of 0.4ml/litre for the first week. You can gradually increase the doses so that in week five you use 0.5ml of nutrient solution, 0.5ml in week six and 0.7ml in week seven. You can flush any nutrients out in the final week.
Soil
You can follow the same steps when you grow in soil but at slightly lower dosages. The fourth week starts at 0.3ml. In the fifth week, you can increase to 0.4ml and then to 0.5ml in the sixth week. Finally, flush the soil with 0.6ml.
Never mix nutrients, boosters or additives in their concentrated forms (i.e. Straight from the bottle Each nutrient booster, additive, or other ingredient should be added to the reservoir in its own turn. Give the mixture a stir before you add the next.
Plant Magic Platinum NPK: 3.0 - 13.2 - 26
Mainland England & Wales
Orders over £50 are Free Standard Delivery.
Orders under £50 are £4.50 Standard Delivery
Next Day Delivery £6.99
We ship parcels using DHL tracked Service. DHL will send you tracking information by email or text to inform you know when they will be delivering your parcel.
Small items are sent via a Royal Mail tracked service.
Our cut-off time for deliveries to leave us the same day is 3pm Monday to Friday.
In Stock: 1 - 2 Working Days
Out of Stock: 2 - 4 Working Days
Items Marked 'Out of Stock' on the website are not currently available from our supplier. Please call or email & we will update you when available.
If any item ordered is unavailable we will contact you by email or phone with expected delivery times. We only debit orders on dispatch so should you wish to cancel, we will do so.
Free Product Exchange:
We allow 30 days for a product exchange. On receipt of the original unused items we will return your exchange carriage free.
Terms and conditions apply.
Scottish Highlands / Northern Ireland
In Stock: £13.99 Delivery 1 to 2 Working Days
The cut off time for deliveries to leave us the same day is 3pm Monday to Friday.
We ship using DHL tracked service. DHL will send tracking information by email or text so you know when they will be delivering your parcel.
Small items are sent via a Royal Mail tracked service.
Free Collection:
Please arrange a collection time and date with our team if you wish to collect your order.