Plant Magic Boosting Powder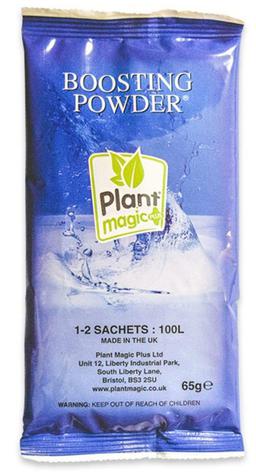 Plant Magic Boosting Powder
Description
Video
Delivery
Klarna
Plant magic Boosting Powder (Box Of 5 Sachets)
This premium PK Booster increases the development of flowering sites which in turn increases the amount of fruits giving you heavier yields.
Derived from Potassium Sulphate, Potassium Carbonate, Potassium Phosphate and Sodium Sulphate.
Suitable for coco, soil, 60/40 and hydroponic growers.
Bring your EC value up to 1.2 in your reservoir using your bloom feed.
Use one 65g sachet/100ltrs water per week during the first 3 weeks of use (this is usually weeks 2, 3 and 4 of bloom).
Use two 65g sachets/100ltrs water per week for the final 2 weeks of use (this is usually weeks 5 & 6 of bloom).

The Boosting Powder can be used in the last 2 weeks of harvest to boost your plants.
Boosting Powder is a unique formulation of Potassium and Phosphorous (PK), which allows the plant to develop a layer of new growth on top of existing fruit, when the plant is normally in its maturity stage.
Boosting Powder adds volume and density to existing fruits without affecting quality or aroma.
The Plant Magic Boosting powder is a premium PK Booster. It is specially designed to boost the production of your plants' flowers by increasing their flower sites.


The Plant Boosting Powder can help your fruit grow quicker, bigger and with a greater aroma and density.
Plant Magic Boosting Powder works well because it has been created by UK companies and uses UK water. This makes it an ideal choice for British growers.
Plant Magic products have been designed to increase growth and promote the development of plants. We are committed to increasing the fertility of your crops by giving them the nutrients that they require.
The unique way our nutrients and fertilizers encourage microbial activity is what makes them stand out. Our products combine key elements of nature, such as bacteria, beneficial fungi and natural stimulants to stimulate plant growth quickly and efficiently.
Your fruiting plants will thrive if they have enough microbial activity. Our products also ensure your plants get ample trace elements, something many other nutrient options do not offer.
Our products are compatible with both hard and soft water. Our products can work with any water source, so no matter what it is, you will be able to grow healthy crops.
Mainland England & Wales
Orders over £50 are Free Standard Delivery.
Orders under £50 are £4.50 Standard Delivery
Next Day Delivery £6.99
We ship parcels using DHL tracked Service. DHL will send you tracking information by email or text to inform you know when they will be delivering your parcel.
Small items are sent via a Royal Mail tracked service.
Our cut-off time for deliveries to leave us the same day is 3pm Monday to Friday.
In Stock: 1 - 2 Working Days
Out of Stock: 2 - 4 Working Days
Items Marked 'Out of Stock' on the website are not currently available from our supplier. Please call or email & we will update you when available.
If any item ordered is unavailable we will contact you by email or phone with expected delivery times. We only debit orders on dispatch so should you wish to cancel, we will do so.
Free Product Exchange:
We allow 30 days for a product exchange. On receipt of the original unused items we will return your exchange carriage free.
Terms and conditions apply.
Scottish Highlands / Northern Ireland
In Stock: £13.99 Delivery 1 to 2 Working Days
The cut off time for deliveries to leave us the same day is 3pm Monday to Friday.
We ship using DHL tracked service. DHL will send tracking information by email or text so you know when they will be delivering your parcel.
Small items are sent via a Royal Mail tracked service.
Free Collection:
Please arrange a collection time and date with our team if you wish to collect your order.