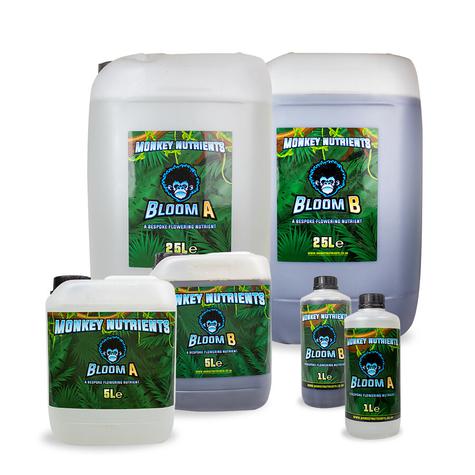 Description
Delivery
Klarna
Monkey Nutrients Bloom A+B
The Monkey's Bloom A+B follows on perfectly from the vegetative phase to the flowering period.

Minimising stress and increasing nutrient uptake, it gets your plants ready for maximum flower and fruit formation.

Made by growers, Monkey knows the importance of proper nutrition throughout a plants life-cycle.

All elements are of equal significance through your plant's different stages of development, but the ratios required for perfect plants changes as they grow and bloom.

Monkey Bloom A+B takes all the essential elements and puts them into just the right proportion, so your plants can achieve the heaviest fruits and most fantastic blooms.
MONKEY BLOOM A+B
WHY DO YOU USE BLOOM?
Fruits. Our goal is to produce rich, heavy fruits during the flowering phase. High levels of Potassium and Phosphorus will increase the quality and yield of fruit by increasing oil production, flavor, and flavour.
Bloom, a highly concentrated product, is specifically designed for UK water. It's ideal for both soft and hard water.
Our base feed is only made from the highest quality minerals elements. They become bio-available for the plants when they are chemically ionized.
Additional bio-stimulants can be used in conjunction with mineral elements to increase nutrient absorption.
WHAT IS BLOOM?
Phosphorus and Potassium are key nutrients in flower development.
These elements are essential throughout the plant's entire lifecycle, but blooming is when they become more important.
The phosphorus aids with energy transfer. Utilizing light energy to power metabolic processes.
This and many other functions are controlled by potassium.
They are all interrelated, so optimum NPK levels will allow the plant to reach its full potential.
Bio-stimulants and beneficial bacterias have been working in symbiotic relationships with plants for many thousands of years.
These bacterias work to improve the bioavailability and availability of minerals. You can unlock more nutrients from your medium.
This will increase assimilation, and prevent salt lockout and buildup. This range combines the best of both the organic and mineral worlds through the use of bio and mineral elements.
Mainland England & Wales
Orders over £50 are Free Standard Delivery.
Orders under £50 are £4.50 Standard Delivery
Next Day Delivery £6.99
We ship parcels using DHL tracked Service. DHL will send you tracking information by email or text to inform you know when they will be delivering your parcel.
Small items are sent via a Royal Mail tracked service.
Our cut-off time for deliveries to leave us the same day is 3pm Monday to Friday.
In Stock: 1 - 2 Working Days
Out of Stock: 2 - 4 Working Days
Items Marked 'Out of Stock' on the website are not currently available from our supplier. Please call or email & we will update you when available.
If any item ordered is unavailable we will contact you by email or phone with expected delivery times. We only debit orders on dispatch so should you wish to cancel, we will do so.
Free Product Exchange:
We allow 30 days for a product exchange. On receipt of the original unused items we will return your exchange carriage free.
Terms and conditions apply.
Scottish Highlands / Northern Ireland
In Stock: £13.99 Delivery 1 to 2 Working Days
The cut off time for deliveries to leave us the same day is 3pm Monday to Friday.
We ship using DHL tracked service. DHL will send tracking information by email or text so you know when they will be delivering your parcel.
Small items are sent via a Royal Mail tracked service.
Free Collection:
Please arrange a collection time and date with our team if you wish to collect your order.