Jiffy Pro7 Light Mix 50L Bag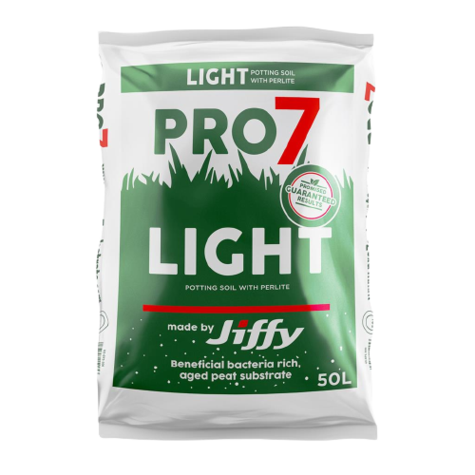 Jiffy Pro7 Light Mix 50L Bag
Description
Delivery
Klarna
Jiffy Pro7 Light Mix is a newly developed potting mix. Through research, this range was designed to provide the best-growing conditions for plants that have a short growth cycle. This may sound simple, but there are a lot of variables involved. Each crop requires a substrate with a consistent and reliable composition in order to achieve optimal yields, plant stability and nutrient delivery, as well as water retention.
The PRO7 LIGHT MIX is a natural, air-enriched peat-based mix that allows you to control the mix. The use of only the highest quality raw materials that meet the strictest RHP standards at Jiffy's modern mixing plant in Estonia sets it apart from other substrates.
Combining research and expertise with high-quality blends, white and black peat and perlite are used to create a mix that is open and light, similar to PRO7 substrates.
The air-to-water relationship is excellent, and it ensures optimal drainage while creating an ideal porosity that works for virtually every cultivation method. Our products are made from certified clean raw materials that are free of pests and disease. This creates a professional compost, unlike some other substrates.
PRO7 LIGHTMIX benefits include rapid rooting through its low EC value and optimal air-to-water ratio, charging microorganisms to kickstart life in plants quickly. Low EC pre-fertilised for one week for a fast start. Used indoors or outdoors for all phases of growth including rooting, growing and blooming with hand watering or irrigation systems*Certified to RHP standards
PRO7 Lightmix contains only minimal amounts of nutrients - pre-set at an EC of +-0.5 with trace elements and lime for quick root development, and strong plants. Chelates ensure your plants get exactly what they require in their first week while providing you with a solid basis to fertilize according to your own judgment.
pH levels at our facility are set at 5.8, providing optimal nutrient availability to plants; additionally, the mix of peats we use acts as a self-regulating system, minimising large pH swings.
Provide your plants with the optimal start by giving them PRO7 LIGHTMIX! Not only will this facilitate optimal growth and flowering, but it will also strengthen their ability to resist diseases or pests that threaten harvest success, leading to an abundant harvest!
Mainland England & Wales
Orders over £50 are Free Standard Delivery.
Orders under £50 are £4.50 Standard Delivery
Next Day Delivery £6.99
We ship parcels using DHL tracked Service. DHL will send you tracking information by email or text to inform you know when they will be delivering your parcel.
Small items are sent via a Royal Mail tracked service.
Our cut-off time for deliveries to leave us the same day is 3pm Monday to Friday.
In Stock: 1 - 2 Working Days
Out of Stock: 2 - 4 Working Days
Items Marked 'Out of Stock' on the website are not currently available from our supplier. Please call or email & we will update you when available.
If any item ordered is unavailable we will contact you by email or phone with expected delivery times. We only debit orders on dispatch so should you wish to cancel, we will do so.
Free Product Exchange:
We allow 30 days for a product exchange. On receipt of the original unused items we will return your exchange carriage free.
Terms and conditions apply.
Scottish Highlands / Northern Ireland
In Stock: £13.99 Delivery 1 to 2 Working Days
The cut off time for deliveries to leave us the same day is 3pm Monday to Friday.
We ship using DHL tracked service. DHL will send tracking information by email or text so you know when they will be delivering your parcel.
Small items are sent via a Royal Mail tracked service.
Free Collection:
Please arrange a collection time and date with our team if you wish to collect your order.