Jiffy Pro7 Coco 70/30 50L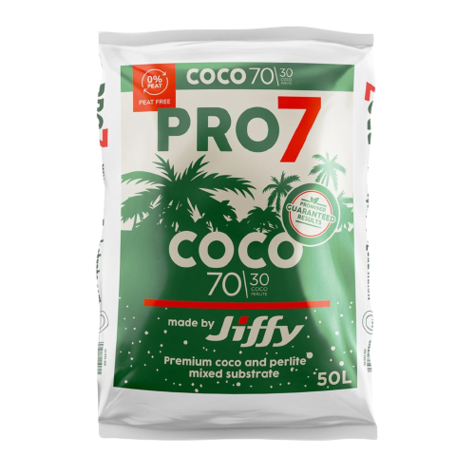 Jiffy Pro7 Coco 70/30 50L
Description
Delivery
Klarna
Jiffy Pro7 Coco 70/30 50L is manufactured by Jiffy, an industry-renowned brand that has provided consistently superior premium substrates to both novice and expert gardeners for over 60 years.
Sri Lanka-based coco plantations and processing facilities of RHP Cocoare world-leading and ISO 22000 certified. Assuring salt-free and low EC products with constant homogeneity across their product range; and meeting their stringent quality standard.
Coco/Perlite 70/30 Mix provides growers looking for a light, airy substrate with Active Trichoderma the ideal high-performance medium.
PRO7 COCO 70/30 Mix is a combination of two high-grade substrates: 70% RHP Certified Coco Pith Mixed Fibre Substrate for its outstanding air and water retention properties and 30% Perlite that has been thoroughly washed/buffered before being charged with added trace elements and beneficial's to promote faster rooting and stronger plant development. This highly efficient light, aerated substrate makes an excellent choice for cultivating short-cycle or fast-growing plants in pots or recirculation systems.
Our fully buffered coco is an effortless substrate, designed for both growth and flowering stages. Perlite adds lightness to this media while air-rich qualities encourage beneficial bacteria colonisation for an improved drainage and stable pH level. All this comes together to form an excellent base that enables fast root development with strong plants resistant to high temperatures while yielding delicious quality fruits!
Benefits of PRO7 COCO 70/30
•Enriched coco/perlite mix, ideal for propagation or long-term hand watering propagation – speeding up root development.
•Hand-watering, as it reduces the risks of over-watering.
•Higher yield from stronger, better-established plants.
•Improved root health/growth means stronger plants.
•Better rootzone temperature control, aiding growth in young plants.
•Peat Free
•With Active Trichoderma
•Premium Quality RHP washed and buffered coco.
•Low watering frequency needed.
PRO7 COCO bagged substrate has an open, natural fibre structure thus providing improved air retention properties. It is suitable for all types of cultures, outdoors and indoors.
Mainland England & Wales
Orders over £50 are Free Standard Delivery.
Orders under £50 are £4.50 Standard Delivery
Next Day Delivery £6.99
We ship parcels using DHL tracked Service. DHL will send you tracking information by email or text to inform you know when they will be delivering your parcel.
Small items are sent via a Royal Mail tracked service.
Our cut-off time for deliveries to leave us the same day is 3pm Monday to Friday.
In Stock: 1 - 2 Working Days
Out of Stock: 2 - 4 Working Days
Items Marked 'Out of Stock' on the website are not currently available from our supplier. Please call or email & we will update you when available.
If any item ordered is unavailable we will contact you by email or phone with expected delivery times. We only debit orders on dispatch so should you wish to cancel, we will do so.
Free Product Exchange:
We allow 30 days for a product exchange. On receipt of the original unused items we will return your exchange carriage free.
Terms and conditions apply.
Scottish Highlands / Northern Ireland
In Stock: £13.99 Delivery 1 to 2 Working Days
The cut off time for deliveries to leave us the same day is 3pm Monday to Friday.
We ship using DHL tracked service. DHL will send tracking information by email or text so you know when they will be delivering your parcel.
Small items are sent via a Royal Mail tracked service.
Free Collection:
Please arrange a collection time and date with our team if you wish to collect your order.