Irrigatia C12 Solar Automatic Watering System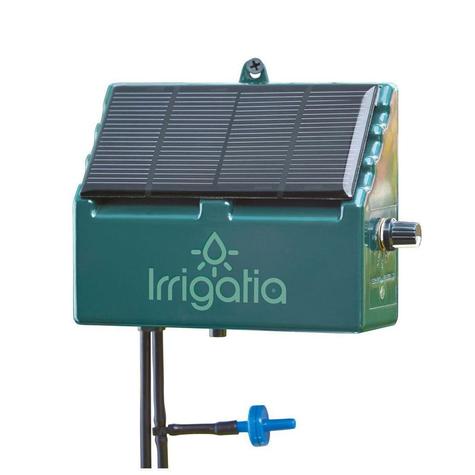 Irrigatia C12 Solar Automatic Watering System
Description
FAQs
Video
Delivery
Klarna
Irrigatia C12 Solar Automatic Watering System is easy to use, eco-friendly, efficient irrigation system powered by the sun! Automatically watering every three hours to keep flowers fed and watered. Ideal for those hot dry spells that catch us off guard. The unique weather-responsive SMART irrigation controllers use solar energy to sense the seasons and adjust watering accordingly, giving plants the irrigation they require to thrive. They are easy to set up and maintain. They are ideal for all types of gardens, including small- to medium-sized ones.
You want the best possible garden plants. You can achieve the best results from your garden plants with regular irrigation. This is true regardless of whether they are housed in pots or baskets. The easiest method to automatically water your garden is with Irrigatia's solar-powered drip irrigation systems. The kit will automatically water your garden every three hours.
When it's sunny, the irrigation kit will use more water. You can be sure it will continue to provide water even if you are gone. Small gardens will love this irrigation kit. It can be used to water pots, raised beds and hanging baskets, vegetables, and greenhouses. These are simple to set up, and they can be used immediately. Garden irrigation kits have been designed to precisely apply water, right where it's needed, and slow enough to allow it to soak in. These kits are not recommended for sprinklers or high-output systems. If you don't own a waterbutt, then connect the Irrigatia's reservoir to your tap.
Tips on setup
Make sure the batteries are securely held by their metal electrodes when you fix them. Make sure that your inlet filter, rain barrel and filter are cleaned and about 10 cm from the barrel's bottom. If the water level sensor is used, it should be connected to the inlet tub. It should not be more than 2 cm above the filter if it is a single-wire sensor. Twin wires should have a 2 cm above filter. The other electrode should be under the filter for good separation. Make sure that both the outlet and inlet tubes are securely connected to the pump connections. If necessary, trim 1cm off the ends. Clean the panel with a clean cloth. Make sure that the protective film is removed from new solar panels. The solar panel should not be shady and face towards the south (Northern in the Southern hemisphere). Turn the pump on in bright sunlight with the outlet tube off. Turn on the pump until water is coming out of the outlet. Then connect the outlet tube. While the pump is running, check for any leakages or blocked drippers. You should repair leaky joints by removing 1 cm from the tube's end.
Mainland England & Wales
Orders over £50 are Free Standard Delivery.
Orders under £50 are £4.50 Standard Delivery
Next Day Delivery £6.99
We ship parcels using DHL tracked Service. DHL will send you tracking information by email or text to inform you know when they will be delivering your parcel.
Small items are sent via a Royal Mail tracked service.
Our cut-off time for deliveries to leave us the same day is 3pm Monday to Friday.
In Stock: 1 - 2 Working Days
Out of Stock: 2 - 4 Working Days
Items Marked 'Out of Stock' on the website are not currently available from our supplier. Please call or email & we will update you when available.
If any item ordered is unavailable we will contact you by email or phone with expected delivery times. We only debit orders on dispatch so should you wish to cancel, we will do so.
Free Product Exchange:
We allow 30 days for a product exchange. On receipt of the original unused items we will return your exchange carriage free.
Terms and conditions apply.
Scottish Highlands / Northern Ireland
In Stock: £13.99 Delivery 1 to 2 Working Days
The cut off time for deliveries to leave us the same day is 3pm Monday to Friday.
We ship using DHL tracked service. DHL will send tracking information by email or text so you know when they will be delivering your parcel.
Small items are sent via a Royal Mail tracked service.
Free Collection:
Please arrange a collection time and date with our team if you wish to collect your order.