Grotek Green Line - Synergy
£53.49
Saving: £13.50
RRP: £66.99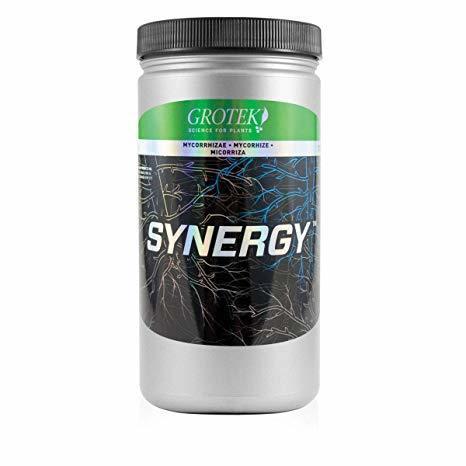 Grotek Green Line - Synergy
£53.49
Saving: £13.50
RRP: £66.99
Description
Delivery
Klarna
Grotek Green Line - Synergy
Synergy is a powerful mycorrhizal fungus that stimulates plant growth and productivity.

Through a mutually beneficial symbiosis, mycorrhizae increase nutrient uptake and improve crop resilience, while enhancing soil quality.

This proprietary strain, isolated from nature, is proven to thrive under conditions of high fertility and elevated electrical conductivity.
SYNERGY Symbiotic Success
What is Synergy?
Synergy a water-soluble powder, contains fungi which helps plants to achieve rapid root development and overall growth from harvest.
Arbucular Mycorrhizal Fungi (AMF), which supports the growth and productivity of most plants on Earth, also helps improve soil conditions.
Synergy(tm), a variety of mycorrhizae, is especially effective in intensive agriculture.
Some Mycorrhizae do not have consistent positive results with crops. This can be due to a low colonization rate, which can be affected by fertilizers.
This strain is more tolerant of saline environments (EC) than glomus intraradices or glomus mosseae. These conditions are conducive to Synergy which shines because of its rapid colonization and enhanced impact on soil and plants.
Instructions for use:
Avoid contact with skin, eyes, and clothing. Wash hands after use. Keep it in a dry, dark place with a lid.
Transplant - Use 1g for every 4L of potting dirt. After transplant, apply 5 days later. You can get more benefits by mixing potting soil with Grotek Organics (tm), Black Pearl (tm).
Root Drench – Add 1g to 4L of potting dirt. You should apply every 10-14 days until the roots are harvested. This ensures that your roots have high contact.
Apply 1.5kg/acre (3kg/Ha), if you are using the soil outdoors, a few days after transplant. Repeat 2-3 times throughout the growing season.
For added impact, combine Grotek Organics(tm), Root Force(tm). Mix the solution well. Mixture should be done in a container. Mixing right before use will yield the best results.
Black Pearl(tm), which is best used when soil is being mixed or transplanted into soil, and soilless media. Black Pearl can be worn as a topdress, but it will be more effective if it is incorporated into the medium/soil.
Vital can be used in soilless media or water culture throughout the entire cropping cycle. Outdoor gardens: Use it 2 to 4 times per season.
Mainland England & Wales
Orders over £50 are Free Standard Delivery.
Orders under £50 are £4.50 Standard Delivery
Next Day Delivery £6.99
We ship parcels using DHL tracked Service. DHL will send you tracking information by email or text to inform you know when they will be delivering your parcel.
Small items are sent via a Royal Mail tracked service.
Our cut-off time for deliveries to leave us the same day is 3pm Monday to Friday.
In Stock: 1 - 2 Working Days
Out of Stock: 2 - 4 Working Days
Items Marked 'Out of Stock' on the website are not currently available from our supplier. Please call or email & we will update you when available.
If any item ordered is unavailable we will contact you by email or phone with expected delivery times. We only debit orders on dispatch so should you wish to cancel, we will do so.
Free Product Exchange:
We allow 30 days for a product exchange. On receipt of the original unused items we will return your exchange carriage free.
Terms and conditions apply.
Scottish Highlands / Northern Ireland
In Stock: £13.99 Delivery 1 to 2 Working Days
The cut off time for deliveries to leave us the same day is 3pm Monday to Friday.
We ship using DHL tracked service. DHL will send tracking information by email or text so you know when they will be delivering your parcel.
Small items are sent via a Royal Mail tracked service.
Free Collection:
Please arrange a collection time and date with our team if you wish to collect your order.