Emerald Harvest Emerald Goddess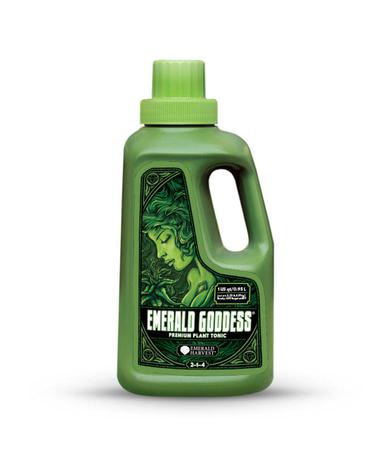 Emerald Harvest Emerald Goddess
Description
Delivery
Klarna
Emerald Harvest Emerald Goddess
Nurture your valuable crops with Emerald Goddess, an invigorating premium plant tonic from Emerald Harvest.

We've taken Mother Nature's best naturally occurring elements and other components and purified and refined them into a superlative one-shot addition for satisfyingly big yields in your garden.

Brimming with the finest Earth-friendly natural ingredients such as alfalfa and seaweed extracts, Emerald Goddess contributes additional macronutrients, vitamin B1 and humic acid. These are the building blocks that will enable your plants to grow strong and flower abundantly.
Available in 4 sizes
How the Emerald Goddess Works
The power of the plants' hormonal systems is harnessed by Emerald Goddess. It releases auxins, and cytokinins as well as other growth hormones. Cytokinins are complementary to auxins in that they modulate cell growth.
Triacontanol is the main ingredient. It is a type 'phytohormone. Triacontanol, unlike some other carcinogenic chemical boosters, is completely safe and natural and can be found in most plants' leaves. It is a chlorophyl booster and there's good reason it's found in leaves. It is the compound that gives plants their color, called chlorophyll. It also speeds up photosynthesis. Light energy is used to convert CO2 into carbon and oxygen. Photosynthesis that is faster results in higher growth rates and larger yields.
How to use Emerald Goddess
You can add Emerald Goddess to your reservoir at a rate between 1.6ml and 2.6ml per 1 litre of nutrient solutions, starting in the early vegetative stages of the plant and ending with the final flush. Never mix nutrients before filling the reservoir. Always add nutrients to the reservoir, first. Stir vigorously every time. Click the link to see the Emerald Harvest feed charts.
Never mix nutrients, boosters, and additives together in their concentrated form. Straight from the bottle Each nutrient, booster, or additive should be added to the reservoir or feed water in turn. Give the solution a stir to combine them before adding the next.
Emerald Goddess is extremely effective in any type of growing medium. After mixing nutrients, the pH range is between 5.8 and 6.3. If necessary, keep water temperatures between 18 and 21 degrees Celsius.
Guaranteed analysis: 2 to 1 - 4
Mainland England & Wales
Orders over £50 are Free Standard Delivery.
Orders under £50 are £4.50 Standard Delivery
Next Day Delivery £6.99
We ship parcels using DHL tracked Service. DHL will send you tracking information by email or text to inform you know when they will be delivering your parcel.
Small items are sent via a Royal Mail tracked service.
Our cut-off time for deliveries to leave us the same day is 3pm Monday to Friday.
In Stock: 1 - 2 Working Days
Out of Stock: 2 - 4 Working Days
Items Marked 'Out of Stock' on the website are not currently available from our supplier. Please call or email & we will update you when available.
If any item ordered is unavailable we will contact you by email or phone with expected delivery times. We only debit orders on dispatch so should you wish to cancel, we will do so.
Free Product Exchange:
We allow 30 days for a product exchange. On receipt of the original unused items we will return your exchange carriage free.
Terms and conditions apply.
Scottish Highlands / Northern Ireland
In Stock: £13.99 Delivery 1 to 2 Working Days
The cut off time for deliveries to leave us the same day is 3pm Monday to Friday.
We ship using DHL tracked service. DHL will send tracking information by email or text so you know when they will be delivering your parcel.
Small items are sent via a Royal Mail tracked service.
Free Collection:
Please arrange a collection time and date with our team if you wish to collect your order.