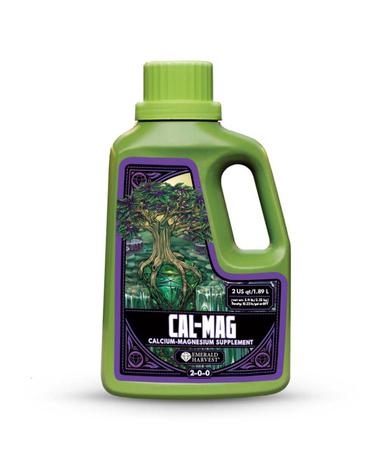 Description
Delivery
Klarna
Emerald Harvest Calmag
Keep your plants productive and green with Cal-Mag, a calcium-magnesium plant supplement from Emerald Harvest.
Contains top-quality ingredients, Cal-Mag is designed to nourish crops with extra calcium and magnesium and create the right conditions for abundant flowering and a heavy yield. This is especially important when growing in some media, such as coco coir, but any garden can benefit.
Available in 4 sizes
Cal-Mag: How it Works
Cal-Mag is a high-quality source of magnesium and calcium, which are two important secondary macronutrients for plants' health and vitality. You'll notice negative effects if your plants aren't getting enough calcium and magnesium. You may notice a slowing of growth and signs such as yellowing in the veins (magnesium), dark brown spots on leaves (calcium), and a general paleness.
Cal-Mag can be especially useful for those who grow in areas with soft water. The starting EC level of soft water is lower because it contains fewer dissolved minerals. Tap water is typically high in calcium and magnesium. This makes it even more crucial for people living in soft water regions to take Cal-Mag supplements.
It's not only those living in areas with soft water that need to be aware. Potassium can cause calcium and magnesium to be locked out if it is too high. The bloom phase is when potassium levels are higher. This is great news for fruits and flowers, but can cause deficiencies if it isn't monitored. It is important to note this for coco coir, which is one of the most widely used mediums in the UK. As coco degrades naturally, it releases extra potassium which could cause problems with nutritional lockout. Cal-Mag will keep your sweet growth going.
Cal-Mag: How do you use it?
Cal-Mag can be added to your reservoir at a rate of 1.3ml for every litre of nutrient solutions. Cal-Mag can be used once the cuttings or seedlings have been properly rooted. It should continue to be used until flower week 6, assuming that you follow a nine week cycle. Do not mix nutrients before filling the reservoir. Always add nutrients to the reservoir, mixing vigorously every time. Click the link to see the Emerald Harvest feedchart.
Never mix nutrients, boosters or additives in their concentrated forms (i.e. Straight from the bottle Each nutrient booster, additive, or other ingredient should be added to the reservoir in its own turn. Give the mixture a stir before you add the next.
Cal-Mag can be used in almost any type of growing media or system. After mixing nutrients, the pH ideal range is between 5.8 and 6.3. If necessary, keep water temperature between 18 and 21 degrees Celsius.
20-0 Guaranteed Analysis
Mainland England & Wales
Orders over £50 are Free Standard Delivery.
Orders under £50 are £4.50 Standard Delivery
Next Day Delivery £6.99
We ship parcels using DHL tracked Service. DHL will send you tracking information by email or text to inform you know when they will be delivering your parcel.
Small items are sent via a Royal Mail tracked service.
Our cut-off time for deliveries to leave us the same day is 3pm Monday to Friday.
In Stock: 1 - 2 Working Days
Out of Stock: 2 - 4 Working Days
Items Marked 'Out of Stock' on the website are not currently available from our supplier. Please call or email & we will update you when available.
If any item ordered is unavailable we will contact you by email or phone with expected delivery times. We only debit orders on dispatch so should you wish to cancel, we will do so.
Free Product Exchange:
We allow 30 days for a product exchange. On receipt of the original unused items we will return your exchange carriage free.
Terms and conditions apply.
Scottish Highlands / Northern Ireland
In Stock: £13.99 Delivery 1 to 2 Working Days
The cut off time for deliveries to leave us the same day is 3pm Monday to Friday.
We ship using DHL tracked service. DHL will send tracking information by email or text so you know when they will be delivering your parcel.
Small items are sent via a Royal Mail tracked service.
Free Collection:
Please arrange a collection time and date with our team if you wish to collect your order.