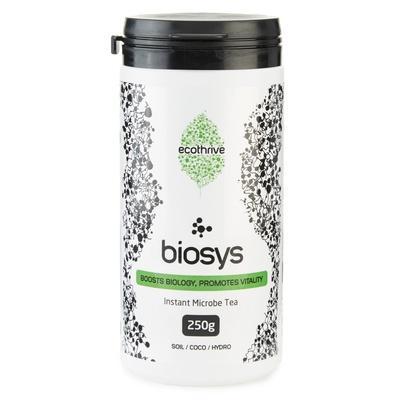 Description
Delivery
Klarna
The Complete Microbial Solution
Ecothrive Biosys contains a unique blend of microbes and natural plant growth stimulants. Easy and quick to mix and use, nothing immediately improves the health of your root zone quite like Biosys. Breathe new life into your plants with Biosys — the instant microbial tea from Ecothrive.
Biosys is a concentrated powder that you add to water to make what we call a 'microbe tea'. It contains some quite complex ingredients that work on a few levels. The microbes in Biosys improve root function, increase nutrient and water availability, help with disease prevention, speed up the breakdown of organic matter and improve plant growth. These organisms include;
8 Species of Endo mycorrhizal fungi

8 Species of Bacillus

2 Species of Nitrogen-fixing bacteria

2 Species of Pseudomonas

2 Species of Trichoderma
Biosys also contain biological catalysts to allow activation and continued growth of beneficial bacteria and fungi within the root zone – right where you need them. These catalysts that activate and sustain the microbes include humic acids, amino acids, enzymes, proteins, carbohydrates and seaweed extract.
When added to water and applied to the root zone, Biosys comes to life quickly to improve the root environment of your crop. Biosys is ideal for use outdoors on open soil, as well as indoors with potting soil, coco, hydroponic growing media (such as Rockwool) and even in hydroponic systems with little or no growing media.
Biosys is very suitable to (re)populate, stimulate and maintain the biological balance in the root zone. Biosys is ideally applied during propagation of seedlings or cuttings, with subsequent applications every 1-2 weeks indoors, and every 4 weeks outdoors. Biosys has a unique action that quickly populates the rhizosphere with a diversity of natural microorganisms to enable your plants to thrive.
Benefits:
Biosys Contain Beneficial Bacteria, Fungi, and Enzymes. Plant Growth Stimulants And Microbial Catalysts All In An Easy To Use Powder!

Biosys Stimulates Rooting Of Cuttings And Promotes Both Vegetative And Generative Plant Development.

Maintains A Healthy Root Zone Throughout The Entire Plant Cycle.

Biosys Enriches The Rhizosphere With A Natural Balance Of Micro-Organisms To Improve Plant Growth And Allow Healthy Uptake Of Water And Nutrients.

Helps Plants Recover Quickly From Periods Of Stress.

Biosys Is Highly Concentrated.

The Microbial Catalysts In Biosys Are Water Soluble.

No Brewing Necessary, An Advanced Instant Alternative To Aerated Compost Tea!

Biosys Is Very Easy To Apply – Straight Away!
Mainland England & Wales
Orders over £50 are Free Standard Delivery.
Orders under £50 are £4.50 Standard Delivery
Next Day Delivery £6.99
We ship parcels using DHL tracked Service. DHL will send you tracking information by email or text to inform you know when they will be delivering your parcel.
Small items are sent via a Royal Mail tracked service.
Our cut-off time for deliveries to leave us the same day is 3pm Monday to Friday.
In Stock: 1 - 2 Working Days
Out of Stock: 2 - 4 Working Days
Items Marked 'Out of Stock' on the website are not currently available from our supplier. Please call or email & we will update you when available.
If any item ordered is unavailable we will contact you by email or phone with expected delivery times. We only debit orders on dispatch so should you wish to cancel, we will do so.
Free Product Exchange:
We allow 30 days for a product exchange. On receipt of the original unused items we will return your exchange carriage free.
Terms and conditions apply.
Scottish Highlands / Northern Ireland
In Stock: £13.99 Delivery 1 to 2 Working Days
The cut off time for deliveries to leave us the same day is 3pm Monday to Friday.
We ship using DHL tracked service. DHL will send tracking information by email or text so you know when they will be delivering your parcel.
Small items are sent via a Royal Mail tracked service.
Free Collection:
Please arrange a collection time and date with our team if you wish to collect your order.