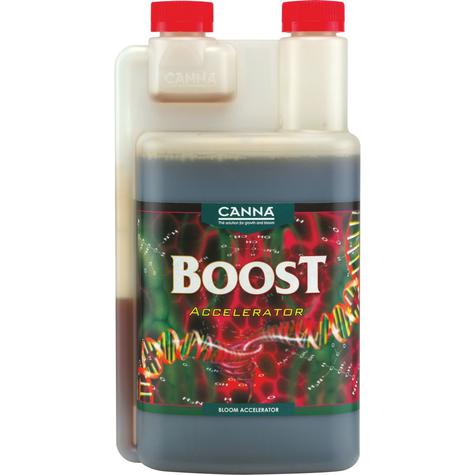 Description
Video
Delivery
Klarna
CANNA BOOST
Canna Boost Accelerator is CANNA's flagship flowering stimulator, specially developed for fast growing plants, it improves quality and increases yields.

Canna Boost stimulates the development of flowers that have formed recently and this can make the fruits fuller than normal. This also results in a more homogeneous harvest because the fruits mature gradually.

Canna Boost does not just guarantee higher yields, but also better taste.

Something extra for the CANNA grower - use with CANNA PK 13/14 for even higher yields.

Suitable for use with all growing mediums and substrates

Canna Boost is a universal flowering stimulator, which is to say that it can be used with any growing system and in combination with any feeding with no exceptions.

As well as adding CANNABOOST to the substrate it can also be used as a leaf spray (foliar feeding). The advantage of this is that the plant can absorb the flowering stimulator directly through its leaves.
The advantages of growing with CANNABOOST Accelerator include:
Canna Boost stimulates the development of new flowers and because of this the fruits can become heavier than normal.

Since the ripening of the fruits also proceeds more gradually, it results in a more uniform harvest.

Canna Boost isn't a nutrient, but an additive that increases the plant's photosynthesis (one of the reactions that make up a plant's metabolism). This increase ensures that the fruits are formed faster. The availability of nutrients is very important for achieving optimum results with CANNABOOST. The availability of all nutrients is guaranteed with CANNA feeding. Even better results can be achieved using the trusted CANNA feeding in combination with Canna Pk13/14. This is because PK 13/14 provides the plant with extra flowering elements while Canna Boost ensures that there's the energy to be able to use these elements.

Better Ripening and Strengthened immune system

Canna Boost contains flowering stimulators that ensure powerful ripening. It also contains natural flowering regulators that help develop fruit more uniformly and finish flowering more strongly. Thanks to the improved energy regulation the plant also has sufficient energy to resist diseases. If there is no energy at the correct place diseases will often strike, just at the moment when it is disastrous for the harvest.

A good harvest isn't just expressed in terms of weight these days. Quality plays a more important role and this also means taste is becoming more important. Increasing the speed of photosynthesis greatly increases the sugar production in the fruits. This makes the taste sweeter and the natural flavours in the fruits will be produced in higher concentrations. The stronger smell of the essential oils in the fruits speaks volumes.
Mainland England & Wales
Orders over £50 are Free Standard Delivery.
Orders under £50 are £4.50 Standard Delivery
Next Day Delivery £6.99
We ship parcels using DHL tracked Service. DHL will send you tracking information by email or text to inform you know when they will be delivering your parcel.
Small items are sent via a Royal Mail tracked service.
Our cut-off time for deliveries to leave us the same day is 3pm Monday to Friday.
In Stock: 1 - 2 Working Days
Out of Stock: 2 - 4 Working Days
Items Marked 'Out of Stock' on the website are not currently available from our supplier. Please call or email & we will update you when available.
If any item ordered is unavailable we will contact you by email or phone with expected delivery times. We only debit orders on dispatch so should you wish to cancel, we will do so.
Free Product Exchange:
We allow 30 days for a product exchange. On receipt of the original unused items we will return your exchange carriage free.
Terms and conditions apply.
Scottish Highlands / Northern Ireland
In Stock: £13.99 Delivery 1 to 2 Working Days
The cut off time for deliveries to leave us the same day is 3pm Monday to Friday.
We ship using DHL tracked service. DHL will send tracking information by email or text so you know when they will be delivering your parcel.
Small items are sent via a Royal Mail tracked service.
Free Collection:
Please arrange a collection time and date with our team if you wish to collect your order.