Bloomroom Flexi Rez Catchment Trays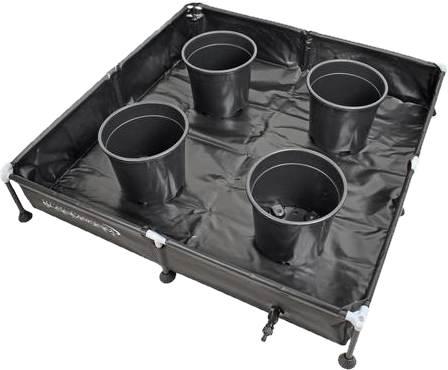 Bloomroom Flexi Rez Catchment Trays
Description
Delivery
Klarna
Bloomroom Flexi Rez Catchment Trays
The new Bloomroom Flexi Rez Catchment Trays are now available. They are easy to transport and store and come flat-packed. This product can be used as an insurance policy to protect your irrigation system. These trays are great for home growers who might have restricted access to their growing space. These trays are designed to be used in places where other trays would not have been possible. This makes them ideal for navigating tight areas.
In the past few years, flexible fabric hydroponics reservoirs have replaced the hard plastic ones. These reservoirs are extremely tough but fold down to a fraction their original size, making them super portable and easy to get in tight places. When they aren't in use, they take up very little storage space.
Choose the right size for your nutrient storage
Hydroponic novices can underestimate how large a reservoir is needed to grow plants to maturity. As plants grow, they require more nutrients. The reservoir size can be determined based on the expected gallons per plant at maturity.
It is a good rule of thumb to say that a large plant like a tomato will need three gallons in water volume. A medium-sized plant would need one and-a-half gallons. Small plants will only require half a gallon. Be generous if possible. If you plan to keep four large plants and four smaller ones, then your reservoir must hold at most 20 gallons.
It's not too extravagant to double the capacity of your cushion to 40 gallons. More is always better in this situation. The big fudge factor can increase the growth potential of more plants and sometimes even saves you from the hassle of adding nutrients as frequently--features that you will likely enjoy for many years.
In the event that your system is unable to backfill its reservoir due to power outages or any other cause, ensure the tank has enough capacity for the amount of water and nutrients running through it. You shouldn't depend on your 40-gallon tank to store 45 gallons of water in case of an emergency. You'll regret it and spend many hours cleaning up.
Introducing the new Flexi Rez catchment trays

They come flat packed for easy storage and transport, this feature also ensures easier installation

They are the perfect insurance policy for irrigation systems

They are superb for the home growing enthusiast who may have limited access to their grow room

They've been designed to fit where no trays have been able to fit before and are mail order friendly
Mainland England & Wales
Orders over £50 are Free Standard Delivery.
Orders under £50 are £4.50 Standard Delivery
Next Day Delivery £6.99
We ship parcels using DHL tracked Service. DHL will send you tracking information by email or text to inform you know when they will be delivering your parcel.
Small items are sent via a Royal Mail tracked service.
Our cut-off time for deliveries to leave us the same day is 3pm Monday to Friday.
In Stock: 1 - 2 Working Days
Out of Stock: 2 - 4 Working Days
Items Marked 'Out of Stock' on the website are not currently available from our supplier. Please call or email & we will update you when available.
If any item ordered is unavailable we will contact you by email or phone with expected delivery times. We only debit orders on dispatch so should you wish to cancel, we will do so.
Free Product Exchange:
We allow 30 days for a product exchange. On receipt of the original unused items we will return your exchange carriage free.
Terms and conditions apply.
Scottish Highlands / Northern Ireland
In Stock: £13.99 Delivery 1 to 2 Working Days
The cut off time for deliveries to leave us the same day is 3pm Monday to Friday.
We ship using DHL tracked service. DHL will send tracking information by email or text so you know when they will be delivering your parcel.
Small items are sent via a Royal Mail tracked service.
Free Collection:
Please arrange a collection time and date with our team if you wish to collect your order.