Autopot System XL- 1 Pot- AquaValve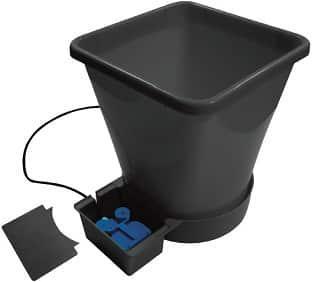 Autopot System XL- 1 Pot- AquaValve
Description
FAQs
Video
Delivery
Klarna
1Pot XL Autopot System
The Autopot 1Pot XL System is extremely versatile and can be used for a wide range of plant types and sizes. Seasonal flowering plants and perennial shrubs thrive and produce an abundance of blooms and foliage because of the unique action of the AQUAvalve, which is designed to allow the plant to go through a wet & dry cycle.
The Autopot 1 Pot XL System is easily extended so many pots can be linked to a single tank. Please see examples of typical layouts using 6mm pipe or 16mm pipe. The pots & trays can be easily moved at will, if the plants grow too large they can be spaced further apart with ease. Once set up and a tank is filled with water & liquid feed this extremely versatile system will completely take care of all your plants needs.
All you need to do is remember to fill up your tank from time to time. Gravity fed means less watering and is much more water efficient. The systems range from 1 xl pot to the autopot 100 pot system.

! AquaValve available in options !!! All AutoPot Systems are now supplied with AquaValve5 !!
*Please note, the larger systems will incur extra delivery fees, you will be contacted before delivery after purchase to arrange this.
Autopot Kits: How Do They Work?
This low-cost watering system offers many advantages. It comes with all the necessary equipment to set it up. Irrigation is easy and straightforward! The 25-litre capacity Autopot XLs can be used for growing. The autopot system is a fantastic way to provide nutrients to your plants without the need for pumps and other irrigation devices. They also don't require electricity. Autopots instead rely on gravity, the clever Aquavalve system and gravity to deliver nutrients when and where they're needed. Autopot kits can be installed quickly and are very easy to use. Each tray is filled with Aquavalves up to the 20mm standard. Aquavalve fills each tray up to 20mm after the nutrient solution is absorbed. The Aquavalve then automatically refills the tray back up to that level with an innovative float valve system. Only fresh nutrient solutions are ever provided once the root system has absorbed all 20mm of previous feed. Autopot plants are fed directly from the bottom, so they need a medium capable of absorb liquid. This is done via capillary action, which draws the liquid up into the containers' upper areas and distributes nutrients evenly. Coco coir is the most effective medium that we tested to be used in Autopot systems.
How to use an Autopot system
You will have to assemble autopots differently depending on how many pots/plants you have. It is quite simple.The circular root control disk should be placed at the bottom and the metallic side up. The Aquavalve tray will be protected from roots growing into it. This can prevent blockages in the distribution of nutrients. Black marix disks are also helpful in preventing blockages. They should be placed at the bottom of Autopot containers. You can fill the container with the medium of your choice and then pot the plants in it. The best medium for autopots is one that has good absorbency and good capillary action. Coco coir works well for this. However, it is important to choose coco-specific nutrients when selecting nutrients. Although soil is good, heavier grades of soil work well when combined with at least 50% perlite. To prevent plants becoming waterlogged, it is a good idea to put a layer of stones at the bottom. Allow pots to dry completely outside the Autopot Trays. Before filling your reservoir with nutrients, allow 7-10 days for hand watering. Autopot systems are best suited for mineral-based nutrients. Blockages can be caused by organic feeds leaving behind residues. Aquavalve Maintenance. You can check that your Aquavalve functions properly by holding it up at eye level. Take a closer look at the yellow silicone which is attached to the top float. To ensure that the Aquavalve functions properly, it must be sealed between the float and the hole underneath. You can lift it up to make sure it sits properly above the hole. It should seal tight when you place it again. After each growth, the Aquavalve must be washed with warm soapy water using a clean cloth.
Mainland England & Wales
Orders over £50 are Free Standard Delivery.
Orders under £50 are £4.50 Standard Delivery
Next Day Delivery £6.99
We ship parcels using DHL tracked Service. DHL will send you tracking information by email or text to inform you know when they will be delivering your parcel.
Small items are sent via a Royal Mail tracked service.
Our cut-off time for deliveries to leave us the same day is 3pm Monday to Friday.
In Stock: 1 - 2 Working Days
Out of Stock: 2 - 4 Working Days
Items Marked 'Out of Stock' on the website are not currently available from our supplier. Please call or email & we will update you when available.
If any item ordered is unavailable we will contact you by email or phone with expected delivery times. We only debit orders on dispatch so should you wish to cancel, we will do so.
Free Product Exchange:
We allow 30 days for a product exchange. On receipt of the original unused items we will return your exchange carriage free.
Terms and conditions apply.
Scottish Highlands / Northern Ireland
In Stock: £13.99 Delivery 1 to 2 Working Days
The cut off time for deliveries to leave us the same day is 3pm Monday to Friday.
We ship using DHL tracked service. DHL will send tracking information by email or text so you know when they will be delivering your parcel.
Small items are sent via a Royal Mail tracked service.
Free Collection:
Please arrange a collection time and date with our team if you wish to collect your order.