Advanced Nutrients Sensi Bloom A & B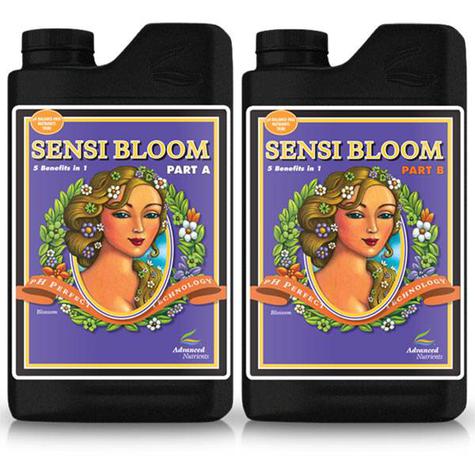 Advanced Nutrients Sensi Bloom A & B
Description
Delivery
Klarna
Advanced Nutrients Sensi Bloom
Advanced Nutrients Sensi Bloom A & B is a 2 part flowering nutrient for use in hydroponics systems.
High-quality ingredients and technology-based nutrient formula you can absolutely trust during the all-important bloom phase.
pH Perfect technology helps to keep pH more stable.
The base nutrition for hydroponic systems is Advanced Nutrients Sensorsi Bloom. This is a complete food for plants, providing all of the essential nutrients necessary to bloom in the early stages of their development. This nutrient is unique in hydroponics because of scientific research. It contains an organic "wetting agent" to make nutrients easier spread and taken up by the roots. For better nutrition absorption and transportation around the plant, it also has humic as well as fulvic acid. Sensi Bloom also contains many amino acids, which are building blocks for proteins and can be used to enhance growth, production of hormones, or essential oil production.
Sensi Bloom's unique "pH-perfect" properties make it a very attractive product for growers. It adjusts your nutrient solution's pH automatically and keeps it at the right level. This 2-part nutrient is the most user-friendly and time-savings-oriented. Only Advanced Nutrients boosters or additives are allowed to be added to the water reservoir in order for "pH perfect technology" to function. The pH-perfect technology may not work if you add products from other companies.
Sensi Bloom A&B - Advanced Nutrients How To Use:
To achieve the desired strength, fill your reservoir with water. Add equal parts of Part A to the tank. Mix well. To measure the TDS, we recommend using either a beaker or a syringe. As needed, adjust. Mix again. Next, add boosters or additives. The pH of your tank will remain at the right level as long you only used Advanced Nutrients products. The pH-perfect technology may not function if you use products made by another manufacturer. This will require pH adjustment. To set your pH level accurately, we suggest using a pH meter . It is recommended that you renew your nutrient solutions every seven days.
Each part of Sensi Bloom 2 part nutrient is designed to be combined in equal quantities. You can't use part A, part B or both in unequal amounts. This will cause a problem with the nutrient balance. You will most likely end up with plants that are deficient.
Never mix nutrients, boosters or additives in their concentrated forms (i.e. Straight from the bottle Each nutrient booster, additive, or other ingredient should be added to the reservoir in its own turn. Give the mixture a stir before you add the next.
Advanced Nutrients recommend dosage rates only for plants with vigorous growth and who are at their peak health. A lower dose rate is required for slower-growing plants or those who aren't 100% healthy.
Mainland England & Wales
Orders over £50 are Free Standard Delivery.
Orders under £50 are £4.50 Standard Delivery
Next Day Delivery £6.99
We ship parcels using DHL tracked Service. DHL will send you tracking information by email or text to inform you know when they will be delivering your parcel.
Small items are sent via a Royal Mail tracked service.
Our cut-off time for deliveries to leave us the same day is 3pm Monday to Friday.
In Stock: 1 - 2 Working Days
Out of Stock: 2 - 4 Working Days
Items Marked 'Out of Stock' on the website are not currently available from our supplier. Please call or email & we will update you when available.
If any item ordered is unavailable we will contact you by email or phone with expected delivery times. We only debit orders on dispatch so should you wish to cancel, we will do so.
Free Product Exchange:
We allow 30 days for a product exchange. On receipt of the original unused items we will return your exchange carriage free.
Terms and conditions apply.
Scottish Highlands / Northern Ireland
In Stock: £13.99 Delivery 1 to 2 Working Days
The cut off time for deliveries to leave us the same day is 3pm Monday to Friday.
We ship using DHL tracked service. DHL will send tracking information by email or text so you know when they will be delivering your parcel.
Small items are sent via a Royal Mail tracked service.
Free Collection:
Please arrange a collection time and date with our team if you wish to collect your order.